Flowers
According to tradition, the Groom's family pays for the bridal party's flowers. That usually includes the bride's bouquet (but NOT the bridesmaid's bouquets), the Groomsmen's boutonnieres, and corsages for the moms and grandmothers.
The Bride's family pays for the bridesmaid's bouquets, and any other flowers that will be used to decorate the reception area. You will most likely want some flowers at the entrance (on your guest book table), centerpieces for the tables, and something for the food table, and dessert table, if you have one (if you are only serving cake, you don't need a floral arrangement on the cake table - the cake is all the decoration required - unless you want to sprinkle some rose petals around it).
The one area where you can save the most money is flowers. The best way to keep the cost of flowers down is to buy flowers that are in season - You can get almost any flower you want anytime of the year; but if they are not is season, they have to be flown in, and that will cost you plenty. Also, don't schedule your reception at a time when flowers are in big demand (Valentine's Day, Mother's Day, Easter, Christmas, etc.) The price of flowers skyrockets during these times.
To see
what flowers are in your color scheme
, go to:
www.fiftyflowers.com
To see
what flowers are blooming in your season
, go to:
www.fiftyflowers.com/seasons
(You're going to LOVE these sites!)k
News Flash!
Even celebrities are using ARTIFICIAL flowers! Marie Osmond is in my ward and I got some flowers from her wedding reception. Beautiful aren't they?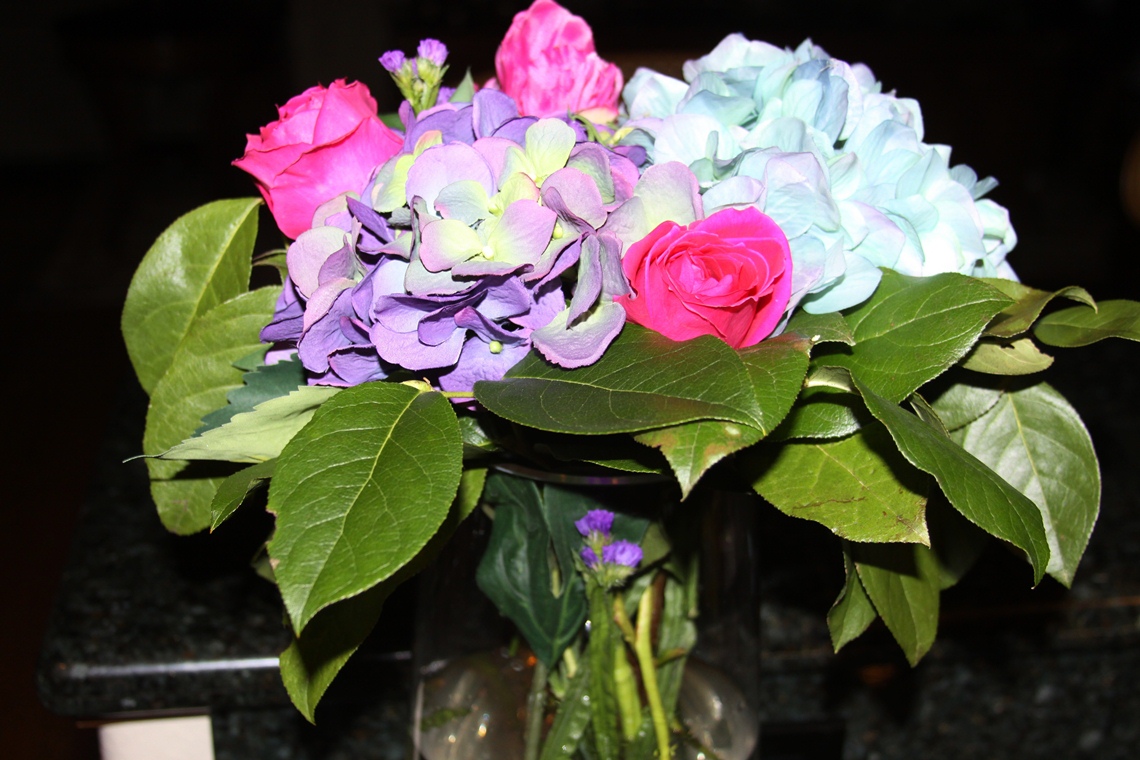 The hydrangeas and peonies were FAKE (silk flowers)!
Two days after her wedding, I decided to change the water in the vase. When I took the flowers out, I was surprised to realize that the majority of the flowers were artificial. The only real flowers in the arrangement were the hot pink roses and some fresh leaves. This is a great idea for many reasons:
1. The cost can actually be less than purchasing fresh flowers.
2. You can use flowers that wouldn't be available in the season of your wedding
3. Real flowers die and can't be reused - and if you want to share with a nursing home or hospital, someone has to be in charge of transporting them.
3. You can use some of the artificial flowers to decorate your new apartment/home
4. You can pass them to a younger sibling to save money on their wedding
5. You can share them with other brides
6. (and I'm sure you can think of lots of other ideas)
As for me, I'm happy that I will have a lasting momento of Marie Osmond's wedding.
Here is another idea for you...hydrangeas aren't that expensive (especially if you happen to grow them in your garden. You can mix them with more expensive flowers, like roses, and save money.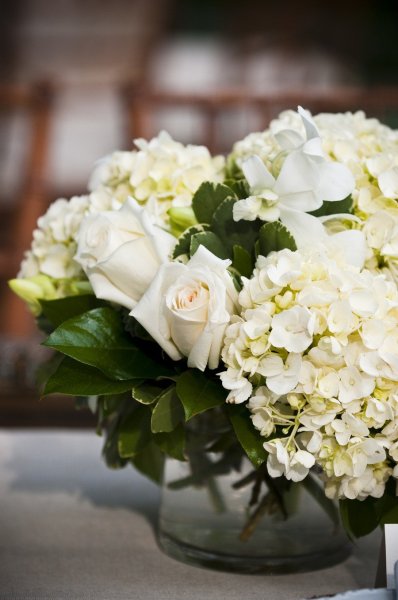 The cost of floral containers can drive up the cost, so check around with past brides to see if they have anything you can use. Also check with the Relief Society President to see what they have. If your mother, or grandmother, has a collection of milk glass, or bud vases, use them. Check Michael's, Target, Marshall's, etc. for interesting containers.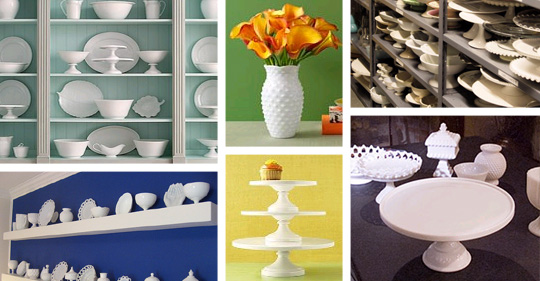 Marshall's has been carrying a line of white glassware that would coordinate with the collection.
Have you got a cupboard of mis-matched bud vases? Use them. Put flowers in a drinking glass and put inside a white paper bag with a bow.
(The following photograph is by Gabriel Li)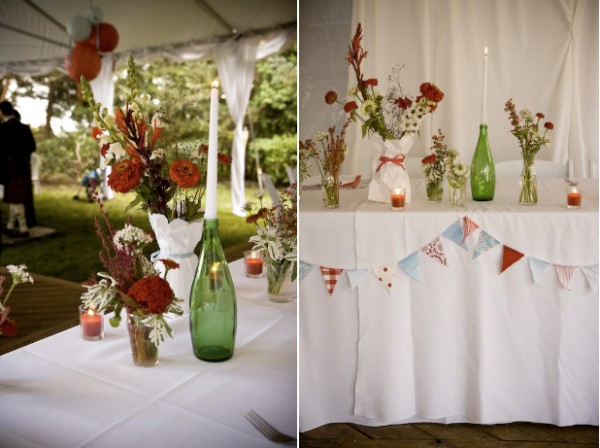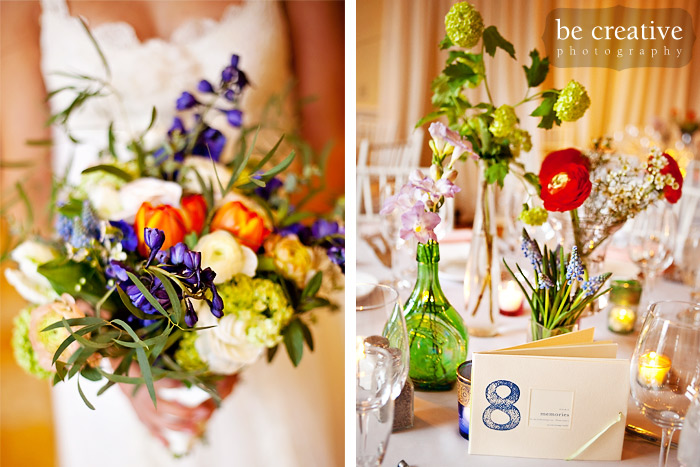 Here is a more elegant look, still using a variety of bottles as flower containers. This bride used the same flowers in her bouquet.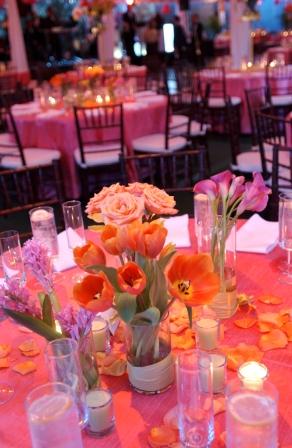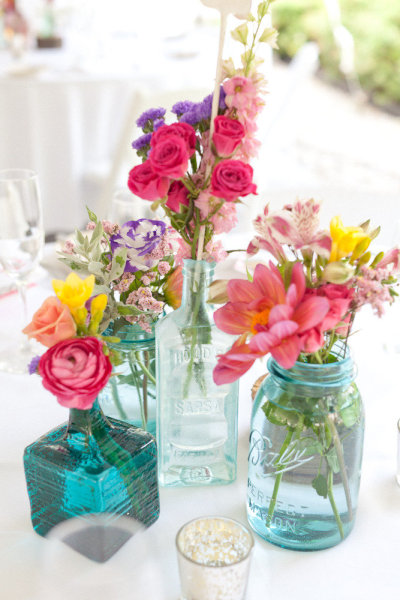 This "orange" centerpiece was achieved by using four different sizes and shapes of glass containers (including ordinary water glasses) wrapped with ribbon, each with a different flower. The silk tablecloth is an excellent example of kicking it up a notch. Rather than using it on every table, however,either alternate it with cotton polyester cloths or save the fancy (expensive) silk cloth for your cake table. But the same idea works with a simpler presentation. You can REALLY save money by just using baby's breath alone (below)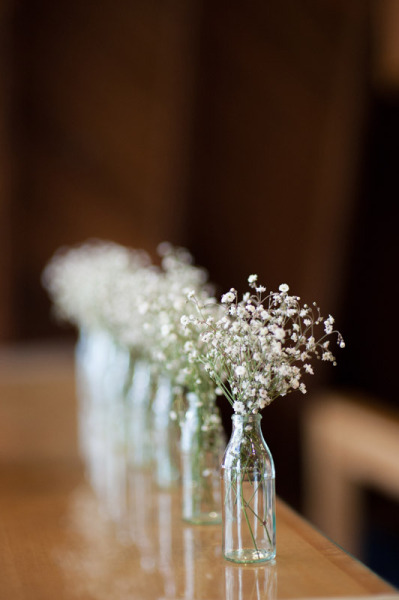 We prefer low centerpieces over tall. Why? Tall centerpieces block conversation with people on the other side of the table. With a low centerpiece, conversation flows around the table (they are also usually less expensive).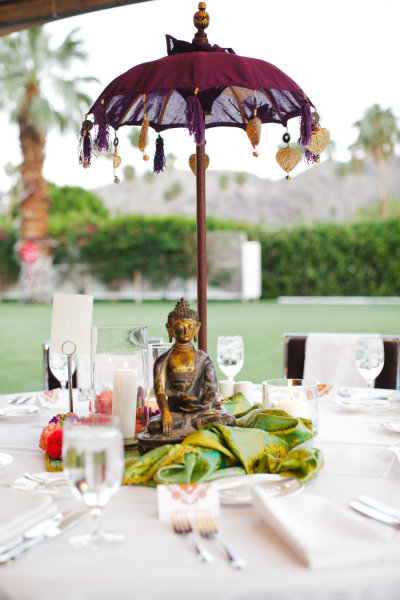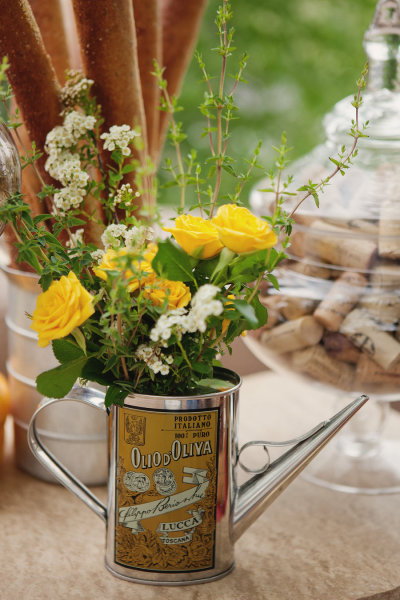 Go to Pier I Imports and look for interesting things to use for your centerpieces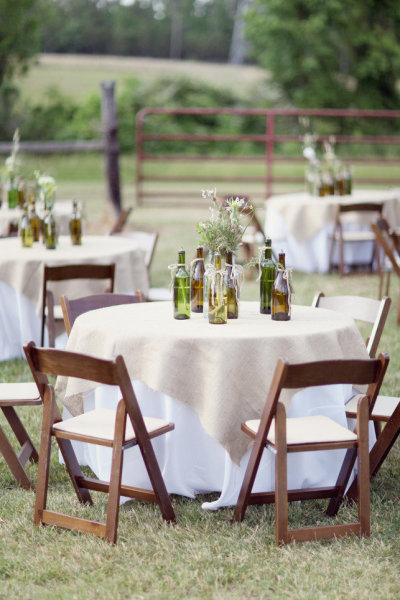 You could make some homemade tarragon vinegars as FAVORS and use them to decorate your tables

Note regarding Candles:
Candles are
dangerous
(that's why they are
NOT ALLOWED in the cultural hall!).
If you are having your reception at home and want to use votives, be sure they are in a glass container.
Think outside the box. If you are having a Fall wedding, why not use a pumpkin as a vase?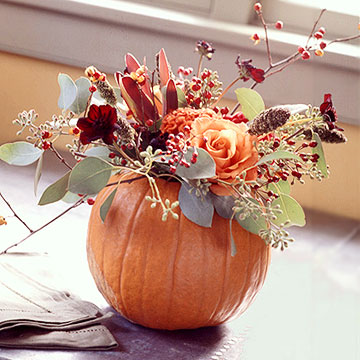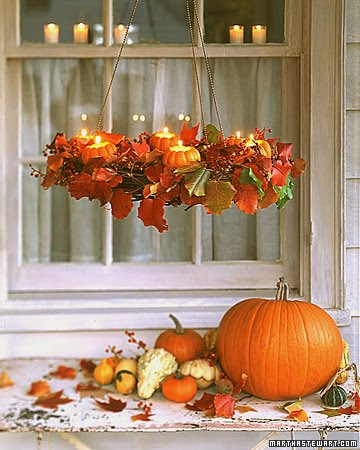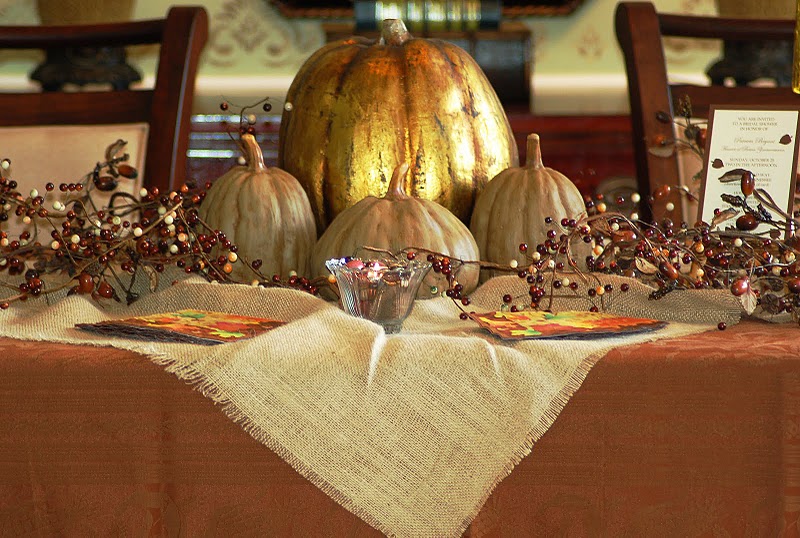 Continue the pumpkin theme throughout if you like. (In some cities Cinderella coaches are available for rent. That could be a fun way to leave the reception, or to have guests ride around the block and have their photo taken in, or in front of, the carriage).

You don't have to have the same centerpiece on every table. It is interesting to walk around and see different arrangements. Or your could do half the tables with bud vases, and the other half with small arrangements.
One of the prettiest Spring ideas I've seen was having bulb flowers on every table, but each table featured a different flower. One table had only yellow daffodils, another had blue Iris, another had white tulips, etc. It really looked elegant. Bub flowers can be expensive, so this would be a great time to take advantage of your local flower mart (and save 70% of what a florist would charge you).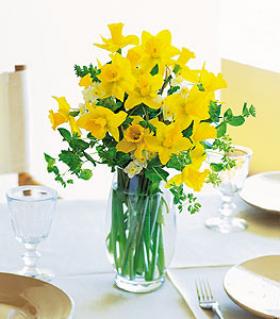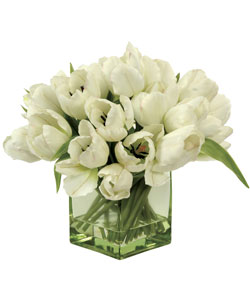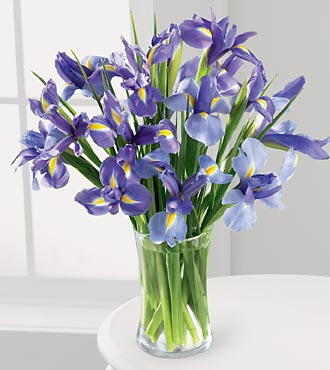 It is cheaper to buy flowers in bulk and make your own arrangements than to have a florist do them. There may be someone in your ward who would be willing to do that for you.
Flowers can do double duty if you plan ahead. Use the bridesmaid's bouquets as centerpieces after the photos have been taken. Here are some simple, but elegant bouqet ideas: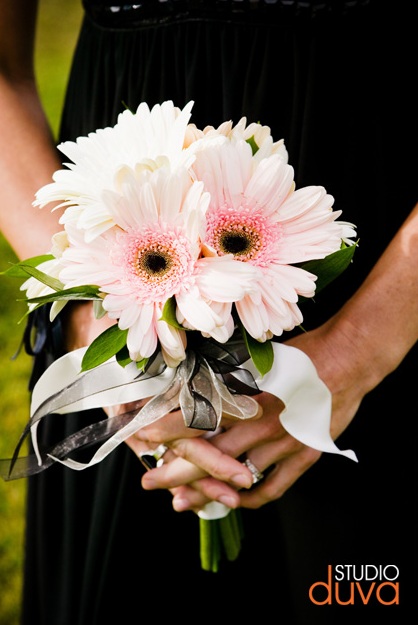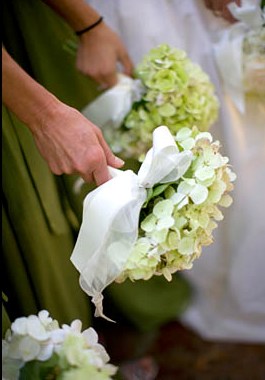 Photo by
Studio Duva Gallery
Do you grow hydrangeas?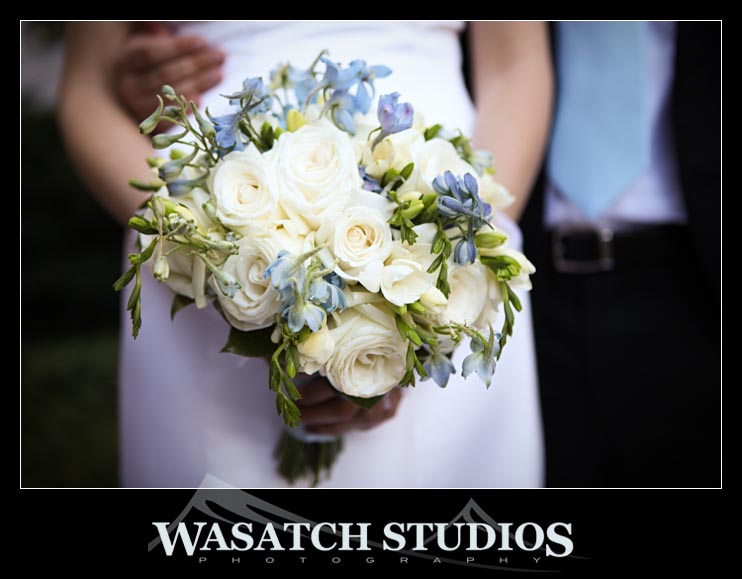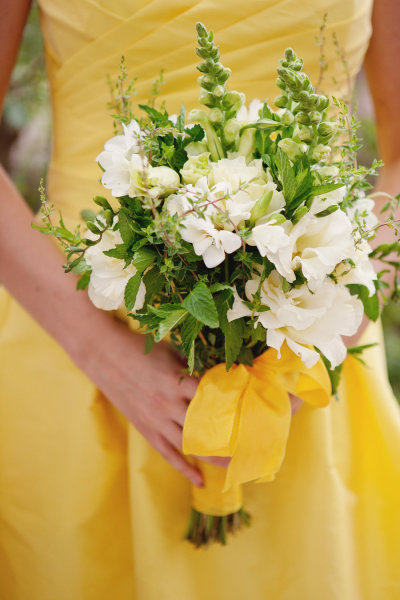 P.S. If you plan to use flowers from your garden, but your timing is off and they are not in bloom, don't panic. Go to Michaels (or your favorite source for artificial flowers). People won't notice - trust me.
See our
"Uniquely YOU"
chapter for more ideas regarding bouquets.
If you are going to have a ring ceremony, see "
Ring Ceremonies
" for floral suggestions.
See samples of flowers we like in our PHOTO ALBUM (click on the first photo to see a "slideshow")