Reception Sites:
When planning your reception, the first thing you have to take into account is your budget. Just because most of the brides in your ward went crazy decorating the cultural hall, and invited everyone in the ward, doesn't mean YOU have to. If this is what you want,and can afford, then go for it. But we're here to give you other options as well.
This site refers more to reception "site". For information on planning your reception,see the chapter on "Receptions" from our wedding book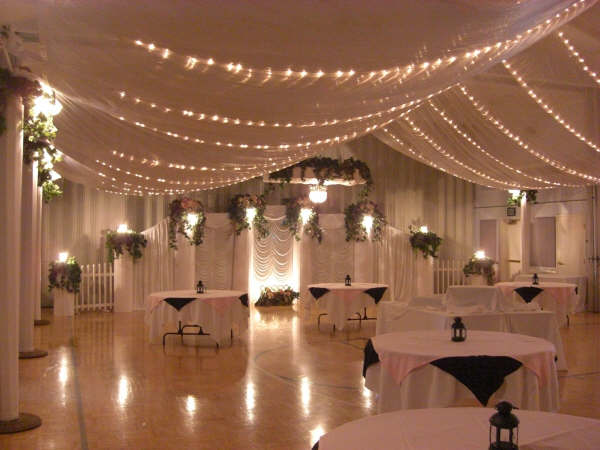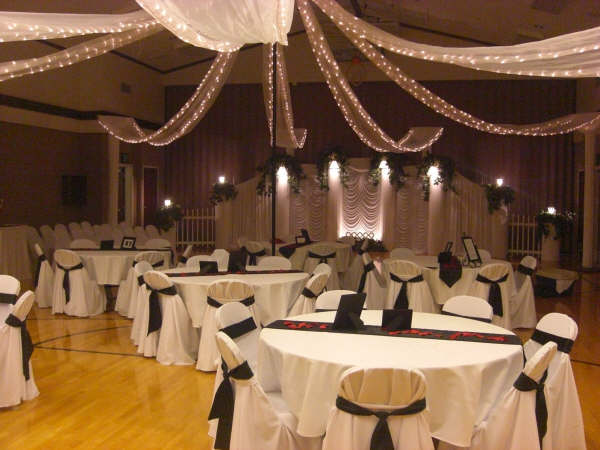 These looks were provided by http://www.royalreceptionsutah.com/ Let THEM do all the work and it is surprisingly affordable. A full canopy ceiling with lights is $500.The streamer ceiling was only $360. But renting linens and chair covers will run up the tab.
Another site to check out if you live in the Salt Lake City area is Legacy Weddings. (also checkout their blog site) Here is a sample of their work: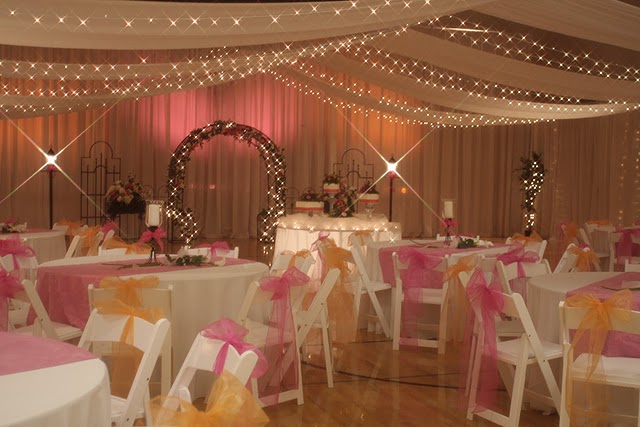 Here is another look which was created by CLM Weddings in Las Vegas, Nevada: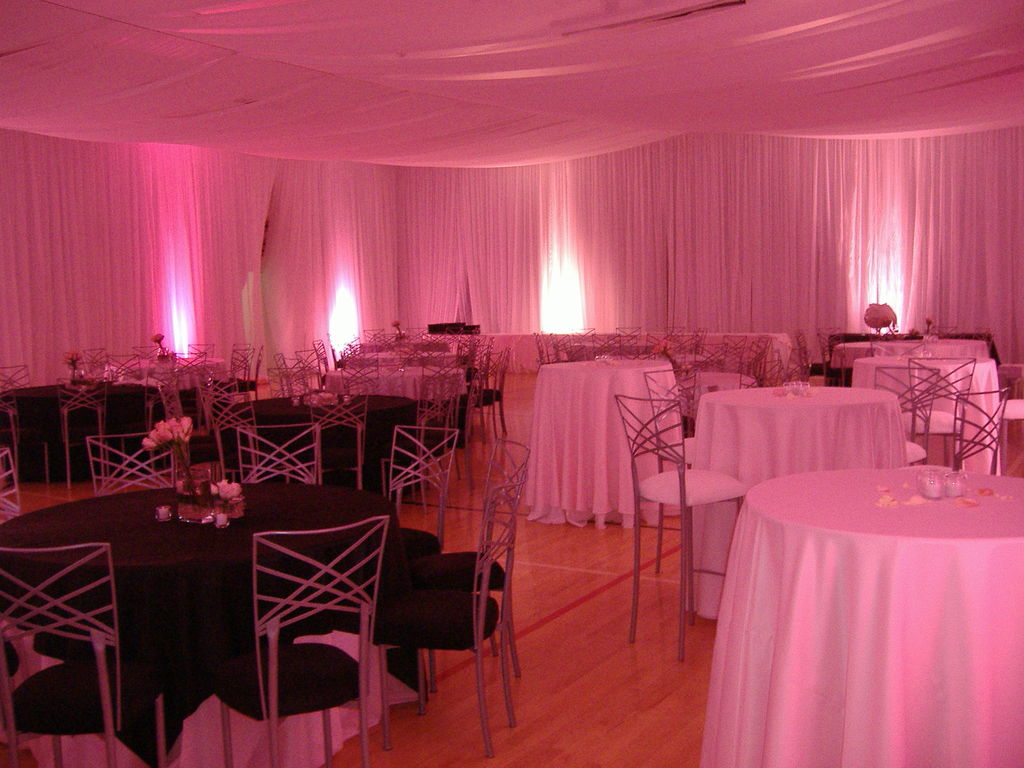 Let's face it most of us don't fall into the above category. Reality check. We need to sit down and decide how much we are willing to spend (without going into debt!). Over 50% of our brides have managed to have their dream weddings for under $5,000!
You can disguise the basketball hoops for $125: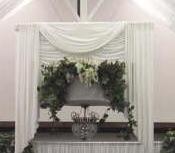 if you are working with a small budget, decide what you can cut. There are no rules. There doesn't have to be a meal, there doesn't have to be dancing. You don't really even need a lot of flowers. You can have it in the cultural hall or at your house.You don't even have to invite the whole ward. Keep it simple. Sometimes by limiting your guest list to family and friends, you really CAN have the reception of your dreams.

We love this look for backyard weddings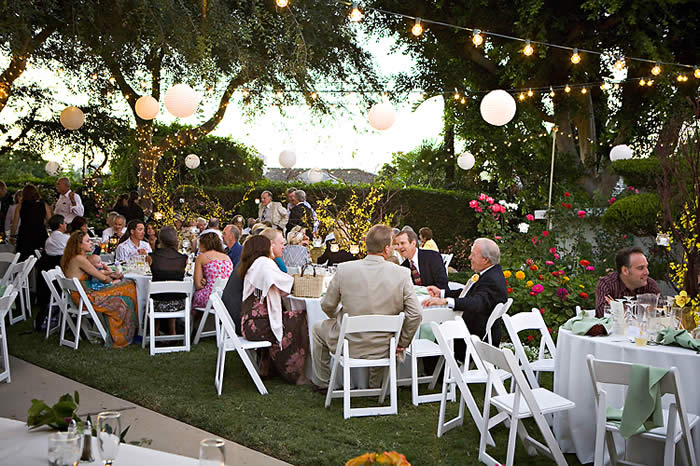 But if you borrow the chairs from the ward, your cost will go waaaay down.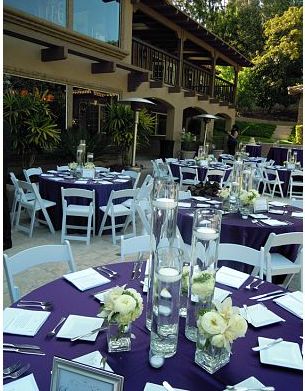 The above photo is another backyard reception with a more formal look.

You may have wanted to decorate the chair backs. Here's a cute idea, just do the bride and groom: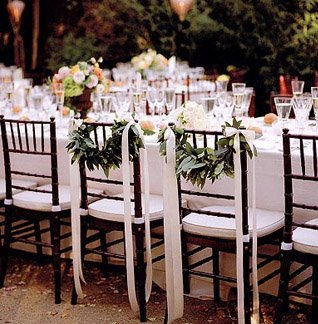 If you were thinking in the $5,000 range, you need to start thinking about what you will be willing to cut. Here are a few ideas of ways to keep the cost down:
Have a Wedding Breakfast Reception: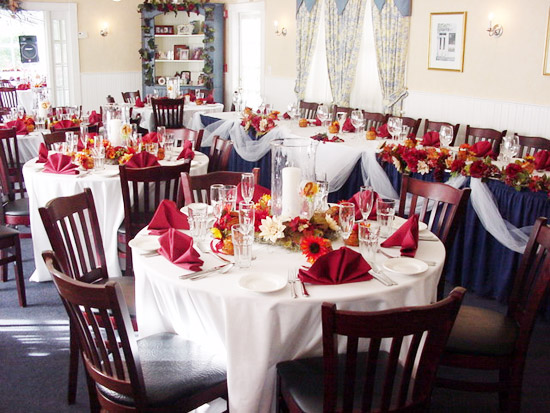 You can have a sit-down breakfast at a nice hotel for 40 people including music (a three or four musician ensemble) for under $5,000.
A Picnic reception (Here is a 4th of July Wedding Picnic):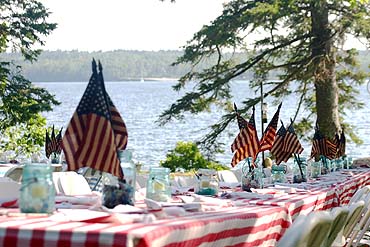 An Afternoon Reception:
Don't serve dinner. Just have it be a cake and punch reception (or add light appetizers). You could have 100 people and still keep the cost under $5,000.
Having your reception at a hotel will save on rentals. No table, chairs, linens, flatware, dishes, glasses to rent - the hotel provides them - and, you don't have to worry about the weather. But your cost per person is high. Do the math.

If you want to check out other options, here are a list of places we've personally checked out (but they may not be as affordable as other options - again, do the math).

Utah's Specialized Wedding Reception Centers:
9201 South 1300 East, Sandy, Utah 801-571-9241
Atrium Weddings main reception area
Eldredge Manor at Eldredge Square, ($1,895 - $4,795)
564 West 400 North, Bountiful, Utah

  

801-292-5501
Red Butte Gardens, Salt Lake City
300 South Wakara Way

, SLC

     

     
The Ivy Lane Reception Center

,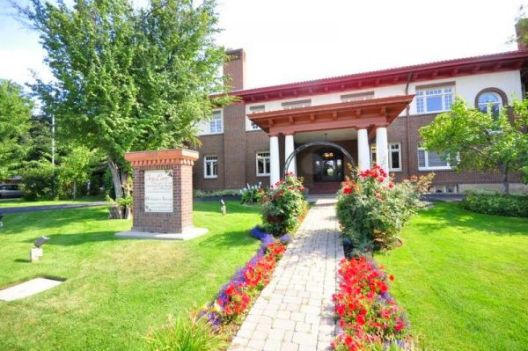 DO check this out, they'll take care of everything from invitations, 
cake, flowers, ...for a very reasonable price. One of our favorites.
Compare prices to other venues. You'll be pleasantly surprised.

1029

 E.

  

25th St., Ogden

    

801-399-4019   
other spectacular wedding venues;
·      Thanksgisving point 

, 3003 North Thanksgiving Way, Lehi
 

They have 15 themed gardens on 55 acres
             

They also have numerous indoor spaces for all sized groups,
             

including a gigantic dinosaur museum (the Museum of Ancient 
 

Life) which has been used for really cool wedding receptions.
            

They have a Show Barn and Farm Country for a western
             

themed reception.
·        La Caille, 9565 Wasatch Blvd., Sandy
Indoor and outdoor reception venues and a place to hold your
Ring ceremony if required.

  

The food and ambiance is unparalled.
·        Log Haven, 6451 E. Millcreek Canyon, SLC

  
·        Wheeler Farm, 6351 South 900 East, Murray
·        The Bungalow

,

 235 South 100 West, Pleasant Grove
(Even though they've been in business for 35 years, they still
treat every bride as if she is special)
Some of our favorite San Diego wedding venues:
the Hilton La Jolla Torrey Pines is in close proximity to the San Diego Temple and has beautiful ocean views: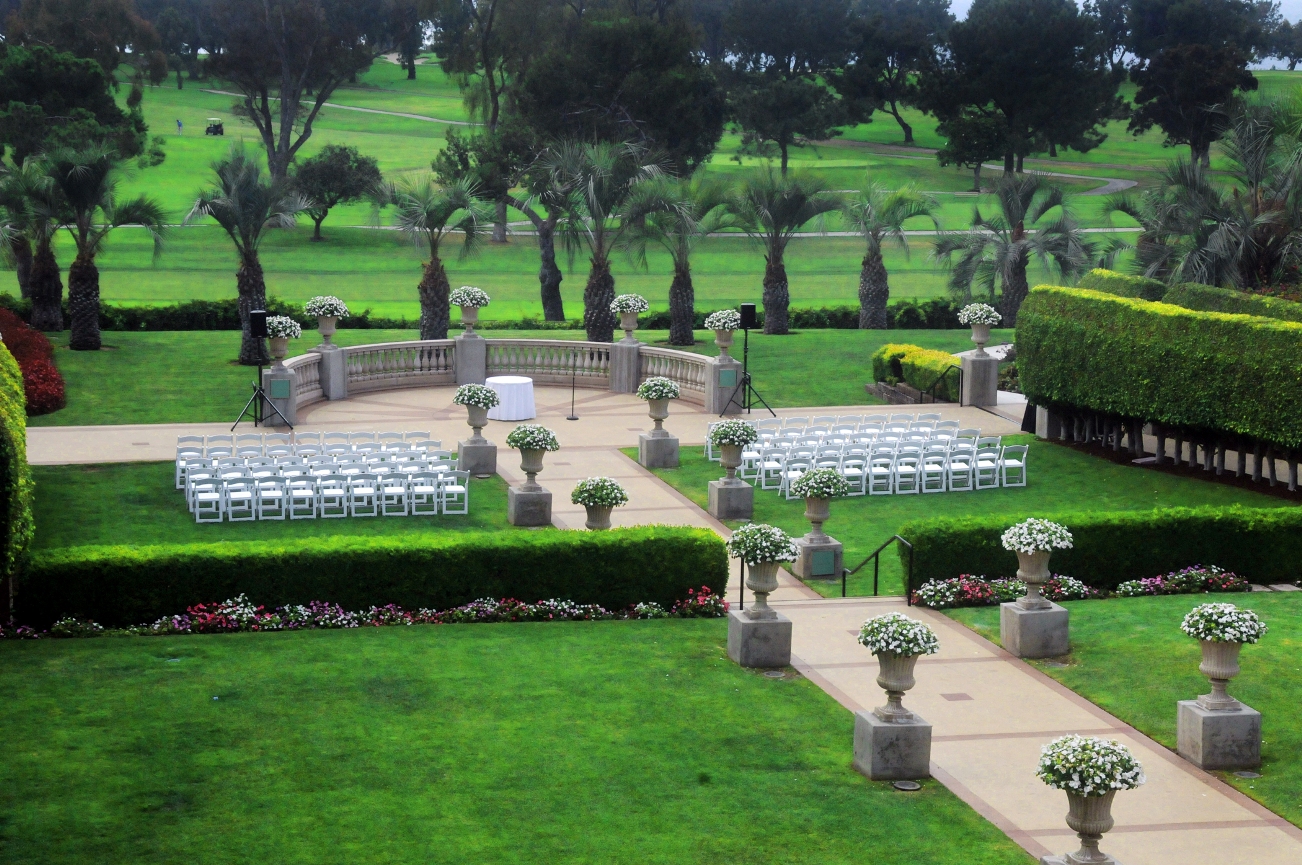 Hilton La Jolla Torrey Pines
10950 North Torrey Pines Road La Jolla, CA 92037
tel: 858-450-4547 fax: 858-558-2837
Contact: Cheri Walter Director of Catering

www.hiltonlajollatorreypines.com
Direct line to Catering Staff 858-450-4504
- - - - - - - - - - - -

The Old Town in San Diego has some charming architectural sites, like the El Cortez:
El Cortez see online at: www.elc.cc

Or for an outdoor venue:

The Japanese Friendship Garden in Balboa Park www.niwa.org
Beach locations must be reserved a year in advance, so unless you get lucky and someone cancels, don't get your heart set on a beach reception. (Besides, there are lots of drawbacks to the beach - bad hair for your photographs being number one - wind and salt air does horrible things to hair. If you are wearing a long gown, the hem will be black and nasty in no time; and you may have an inordinate amount of looky loos hanging around, trying to crash your party)
We're looking for venues in Idaho and Nevada...any suggestions? email us at: Jeri10@aol.com

See our Photo Gallery of RECEPTION SITES