Pre-Wedding Celebrations

When you plan your pre-wedding celebrations, try to be considerate of those who have to attend these parties. Your wedding attendants are already being asked to spend money on dresses they'll never wear again, wedding gifts, shower gifts, and often travel expenses. If a bridesmaid lives out of town, tell her she doesn't need to travel to attend showers. Try to schedule the bridesmaid's luncheon or bachelorette party as close to the wedding as possible so the out-of-town bridesmaids can attend without making several trips.
The Bachelorette Party:

This doesn't have to be an elaborate event. Just a nice luncheon paid for by the bride to thank her bridesmaids. However, if you want to do something fun, you could go miniature golfing together, or bowling, ...or something waaay outside the box, like: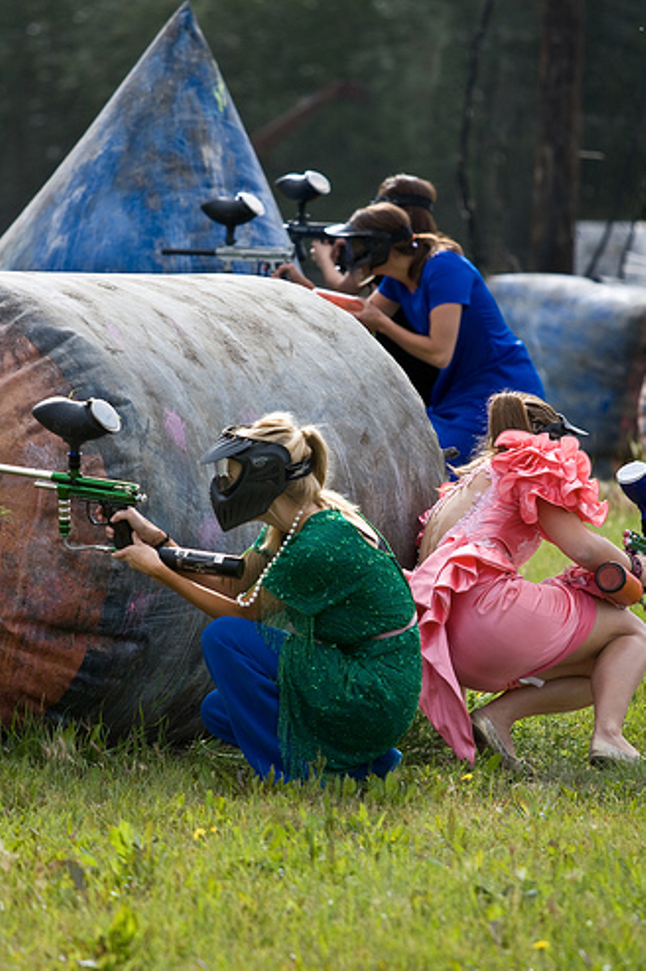 A PAINTBALL Bachelorette Party. Pick up the ugliest bridesmaid dresses you can find at a thrift shop (or have the girls find their own) and go play paintball. See more at:
http://bridetide.blogspot.com/2010/01/paintball-bride.html
The Bridal Shower:
The bridal shower is given by a relative, close friend or a member of the bridal party. It shouldn't be given by the mother or sister of the bride (unless the bridal party lives out of town and the shower is for the bride's local friends and family). It can be a surprise shower, but most brides like to participate in the planning. You can help by:

1. Coordinating the colors:

Most brides like the shower to be the same color scheme as their wedding. It's a great way to introduce the color scheme and give the guests a preview of what's to come.



We love brights like the above lime and raspberry. Or, orange and raspberry. lime and yellow, or lime and purple.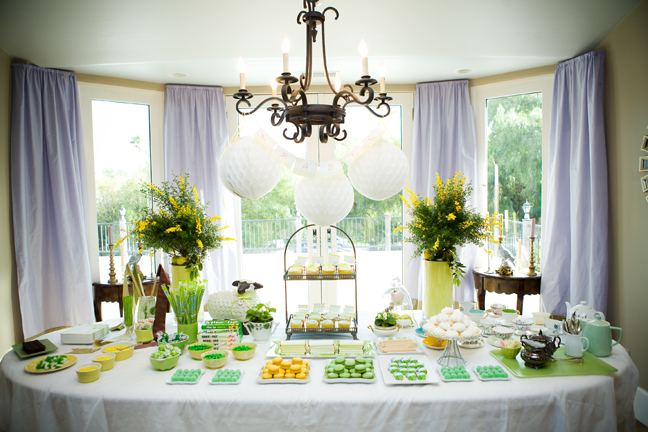 We also like Chocolate and Robin's egg blue, or black and red.

Important note: When choosing your color scheme, you should check out the flowers available the time of year of your wedding to be sure you will be able to carry out your color scheme with flowers you will be happy with.

2. Choosing a theme:

You don't have to have any other theme than "A Bridal Shower" - but some people like to limit the gifts by having a "kitchen" shower or a "Bed & Bath" shower. One of our favorites is an "Around the Clock" shower where guests are given a time ( say, 9:00 a.m.) and have to bring something that would be used at that time (like an omelet pan for breakfast). One hostess we know actually made the face of a clock out of poster board and tied long pieces of colored ribbon to each number on the clock - then as the guests arrived, she attached their gift to the other end of the ribbon. The gifts were opened in order around the clock.

3. Decorating the venue:
Decorating Ideas: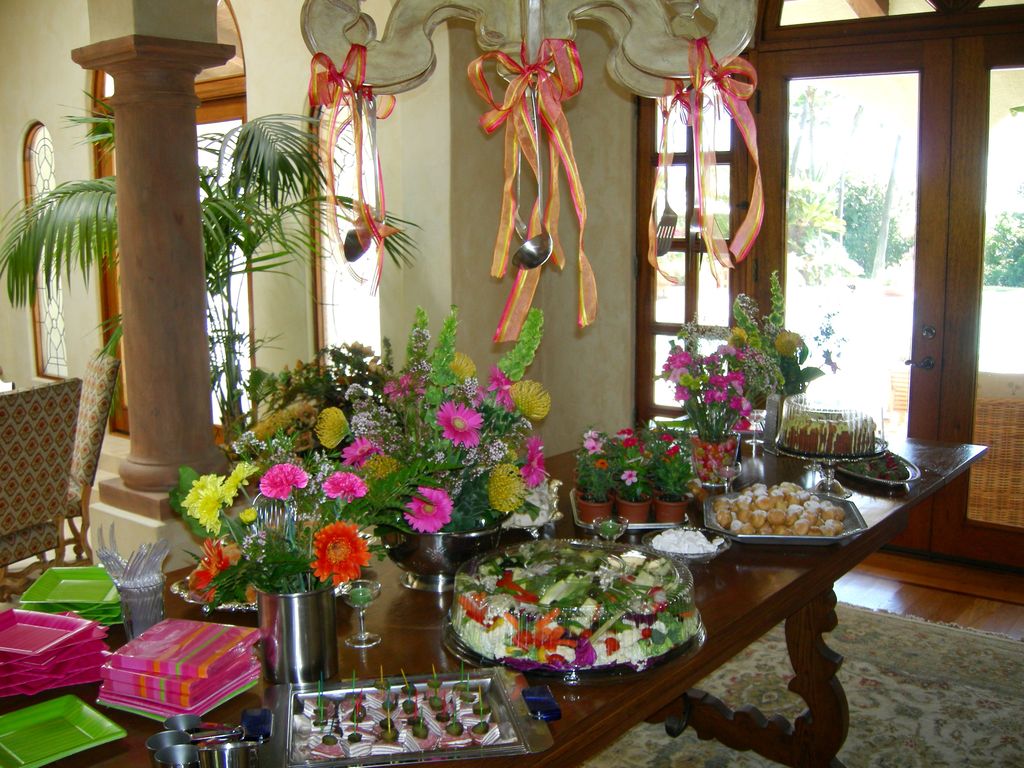 One of the coolest ideas we've run across is using kitchen utensils as floral containers for your centerpieces - then giving them to the bride. Colanders, graters, and large measuring cups (filled with jelly beans), etc. (just put a drinking glass with water in it inside the grater to hold the flowers and bowl with water in it inside the colander). Put small clay pots with flowers in them in the cups of a muffin tin for a cute centerpiece. The food serving table can have items like a rolling pin, measuring spoons, etc. scattered around.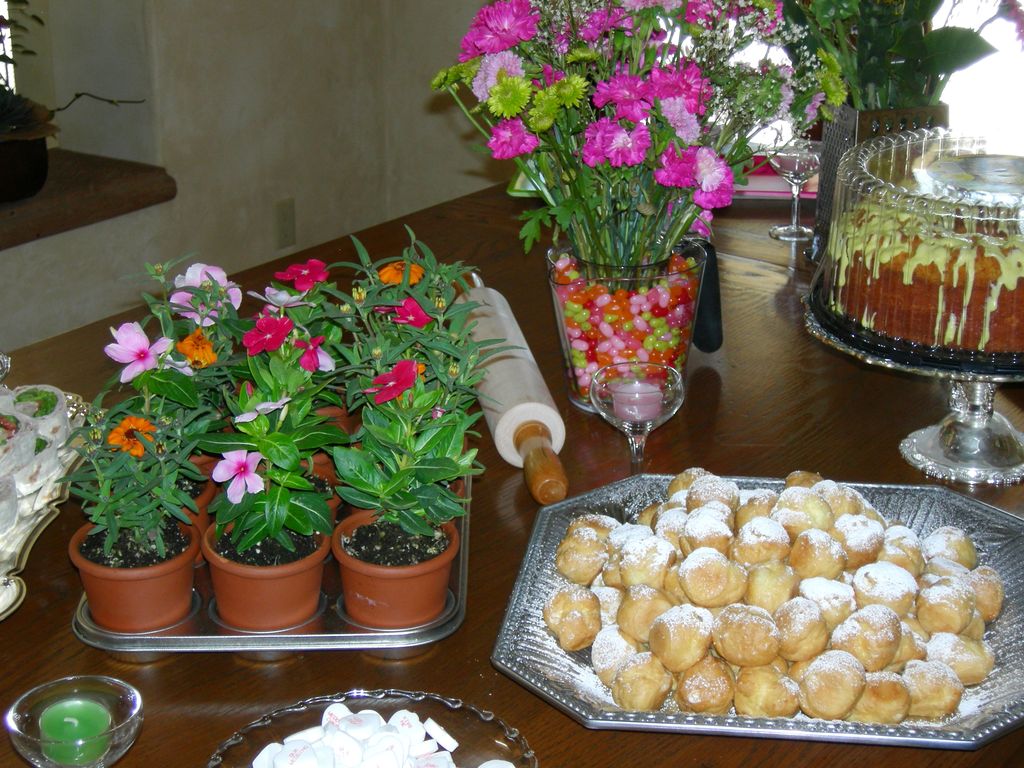 Umbrellas are showing up everywhere now days. The bridal shower is a natural. We love this idea of crystal drops hanging from the umbrella: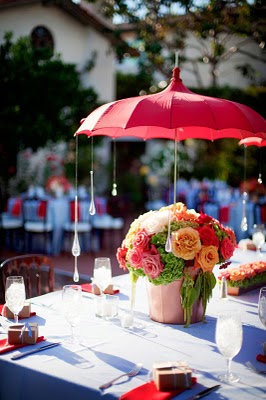 4. Planning Games:

You don't have to have games - especially if it is an older crowd (like your church group etc.). But younger women tend to enjoy them, so - it's your call. You can have everyone bring their favorite recipe, or have 3 x 5 cards for them to write marital advice (and have someone read the best ones).

DO NOT, however, ask the guests to address their own thank you notes! This is tacky. The hand writing on the outside envelope should match the handwriting on the note. (So Mom, unless you plan to write the brides notes, don't offer to address the envelopes.)

Back to games: Personally, I just like having the bride talk about how she met her fiance and how he proposed before or as she is opening gifts. But, if you really want to have some games so you have an excuse to give prizes, try one of these:

Purse Games:
#1 Weigh each guest's purse as they arrive. The heaviest, and the lightest, each wins a prize.
#2 Make a list of items that a woman could possibly have in her purse and assign points to each. Person with the most points wins a prize. Examples:
1 point items: Drivers License, Keys, Pen, Lipstick/Lip Gloss, Comb, brush, credit card.
2 point items: Candy, Gum, Breath Mints, Receipt, Nickel (specific coin), cell phone
3 point items: Nail File, Compact/Mirror, Tampon, Sunglasses, Notepad, Business card, Tylenol/Advil, Zip-Loc Bag
7 point items: Hand Sanitizer, Hair Clips/Bands, Lotion, Kleenex, Perfume, Band Aid
10 point items: More than 5 credit cards, Kid's toy, Ipod/MP3Player, More than $20 cash, Q-Tip, Deodorant, Tweezers
12 point items: Book, Library Card, a photo, nail clipper, water
15 point items: Sewing Kit, Nail Polish, Playing Cards, Granola/Fruit Bar, Postage Stamp, Flashlight
20 point items: Passport, Ear Plugs, Jar of baby Food
25 point items: Mace/Pepper Spray, Tazer, Social Security Card
Toilet Paper Bridal Gowns:
Have guests divide up into equal groups behind each bridesmaid. Each group is given 3 rolls of toilet paper (and sent to different rooms if possible). They must make a wedding dress, veil and bouquet out of the toilet paper. When all groups have finished, the bridesmaids line up and the bride picks the best outfit. Each member of that group wins a prize.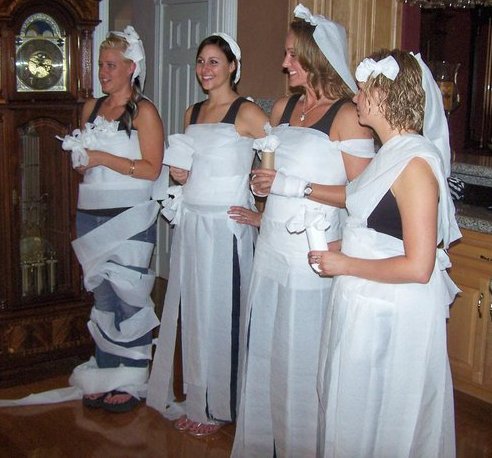 After the Honeymoon Game:
The bride is handed an overnight bag with clothes she's never seen before (be creative). She's told her husband just called and he's picking her up in 3 minutes. Be dressed, but the electricity just went out so she has to get dressed in the dark. Blindfold her and have her open the bag and start dressing in the dark (put a hat of some kind, a bikini, one flip flop sandal and one high heel shoe on the bottom of the bag, put a pair of plaid boxer shorts and a man's shirt (preferably a bright color) on top ).

Note: This doesn't work well with a very shy bride. But it is great for an outgoing one.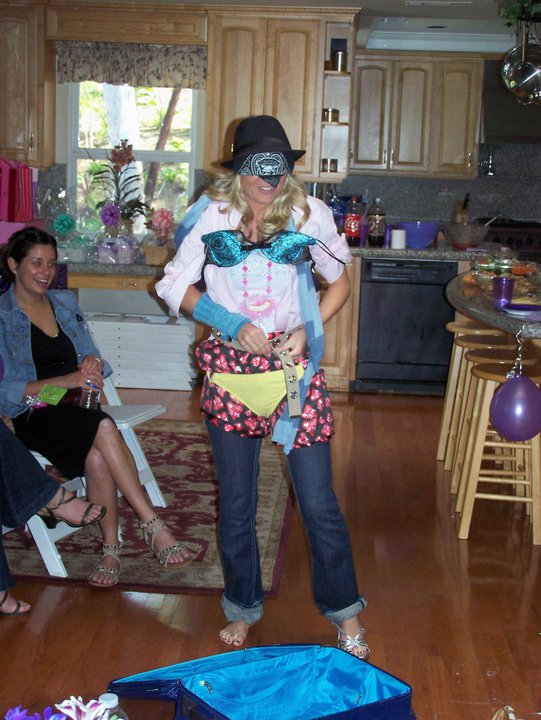 Bridal Gift Bingo:
Give each guest a blank Bingo card (you can make it up yourself) and have them write down gifts they think the bride will receive. This is a great way to entertain your guests while the bride is opening her gifts. Make sure each guest has a pen or pencil to mark off the items. You can have three prizes: a five in a row any direction, an X, and the four corners. Only one winner for each. Guests use their same card and just call off when they win one of those Bingos.

Bridal Shower Trivia
To prepare for this game, you'll prepare trivia questions (ask the bride, her sister, or mother for suggestions of questions). Some sample trivia questions are below:
What year did the bride graduate from high school?
Who was the bride's first kiss?
How many siblings does the bride have?
The guests then try to answer as many questions correctly as they can. The guest to answer the most questions correctly wins the game.


WHO AM I BRIDAL SHOWER GAME
This is very popular ice breaker wedding shower game. Prepare index cards with the names of famous people written on them. When guests arrive, attach a card to each guest's back so that the guest cannot see who the name is, but everyone else can. Each guest must then ask the other guests for clues to the identity of the famous person whose name is taped to their back.
BRIDAL SCRAMBLE
Use about 20 words ( could be less ) that have something to do with "wedding". The words are scrambled and everyone has 10 minutes to unscramble them. The person who unscrambles the most wins the prize. Some examples of words: bride, groom, bridesmaid, maid of honor, limousine, garter, tuxedo, flower girl, rings, shower, honeymoon, church, reception.
How Many "Cows" is the Bride worth?
Just like in Johny Lingo, there are still many cultures today who offer the bride's father cows in exchange for the bride. How many cows is the bride worth? Have a glass jar with cow candy in it and have guests guess how many cows are in the jar. Whoever comes closest to the amount wins. Go to http://www.simplybovine.com/products/holsteintaffy.php and buy cow candy or chocolate cow shaped cookies - or buy some miniature plastic cows from your local toy store.
See our BRIDAL SHOWER PHOTO GALLERY