How to reflect YOUR unique style:
Decorations:
A good source for decorating ideas is the Oriental Trading Company. High Schools use them to get prom props. You can find some amazing things there (including Roman columns). Check out their website or order their catalog at
Orientaltrading.com
. Also try entering the word "wedding" on ebay.com and see what pops up.
Check with other ward members who have had weddings. They may have items you can use (vases, tablecloths, candles, candelabras, punch bowls, cups). Often they have a surplus of decorations, favors, or , at the very least, ideas that you can use. Find out if anyone has something that might lend a special touch - a decorative serving tray, cake stand, chocolate fountain. You might be surprised what the Relief Society sisters can offer if you pool their resources. It never hurts to ask to see what people are willing to do for you.
Check out Big Lots, The 99-cent Store, the Home Goods Store, Costco, Antique stores, or any other local sources you may have for ideas. Michaels craft stores have a surprisingly large inventory of wedding items. Check out their website to find a store near you at
Michaels.com.
My daughter found some extra large Japanese paper lanterns on sale at Pier 1 Imports and we hung them from the ceiling at the reception and it definitely added a "wow" factor. It made a huge impact for very little money. Ask your reception facility if they have anything you can use. Many times they have things leftover from other weddings that was never picked up (arches, lights, tulle swags, etc.)
Remember: you don't have to spend so lavishly and decorate so extravagantly on every table. Just one or two key focal points (the buffet table and/or the cake table) that will be seen by all (and be pictured by your photographer) will amp up the "wow" factor of your wedding.
What makes a reception memorable is NOT the amount of money you spend, but the little touches that make it unique. (for ideas on transforming the Cultural Hall, see Reception Sites)
You will find hundreds of ideas throughout our website. Pick and choose what reflects you and your style (and budget). But don't get overly caught up in the details. Keep the focus on your Temple wedding and your forever marriage.
Here are some ideas to make your wedding and reception Uniquely YOU:

if you love to cook, compile a collection of your favorite recipes and give little recipe books as your favors.
base the theme on where you served your mission. Incorporate the music, food, and culture of that place.
This bride and groom loved to play SCRABBLE, so they incorporated it into their reception:
(Words of Wisdom at the typewriter "Guest Book", Eat Cake at the cake table, Cheers at the drink station, and bon apetite at the food station.

(photos by You Look Nice Today Photography, Portland, Oregon)



have your reception at a venue that reflects your interests, talents, or occupation: a theater, library, museum, football field, etc.
If your last name is a recognizable brand name, find a way to bring it into your wedding (like Jones sodas, Stewart's sodas, Hansen's sodas, Welch's grape juice, MacDonald's burgers (serve the kids Happy Meals!) , etc.
A "Salute to Heroes" would work for a bride or groom who is in the military, law enforcement, or fire department.
If your groomsmen come in a variety of sizes and shapes, play it up and have fun with it:
Who says your groomsmen have to wear a tux?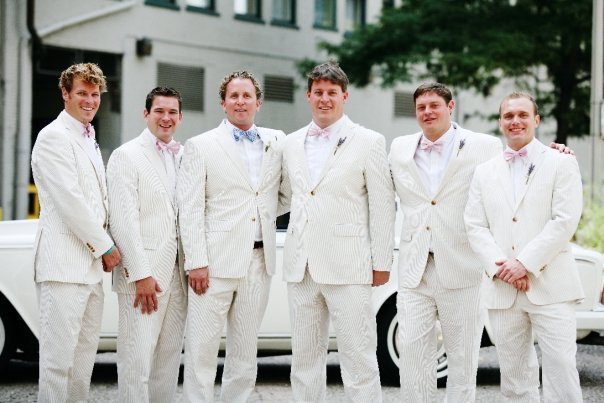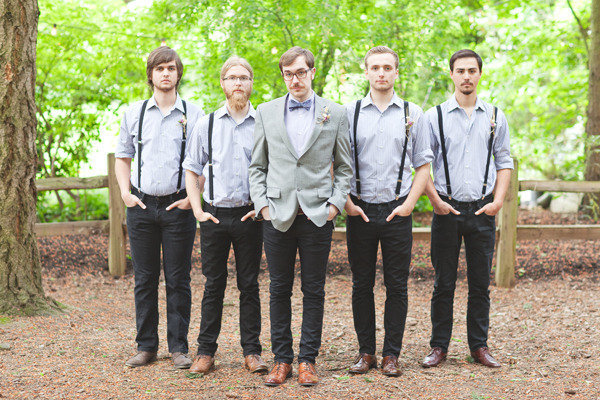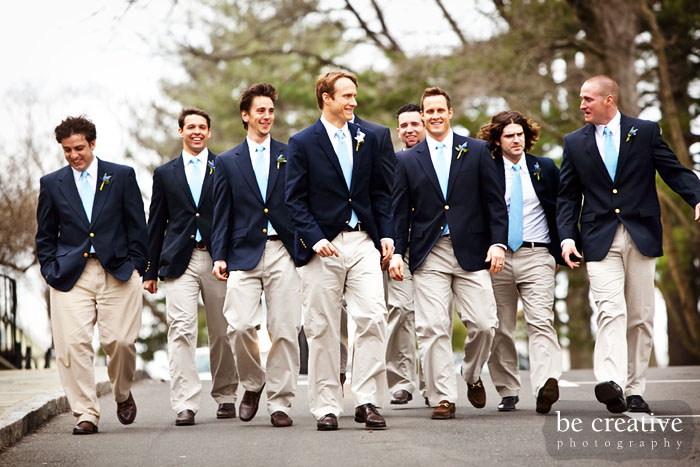 This "preppy" look was photographed by BeCreative Photography
Are you a hopeless romantic? Why not show it with a Bridal Glove (this bride actually wore a pair of these lace gloves):
Brie and Adam opted for yellow shoes and yellow socks
(brightly colored argyles are also very popular):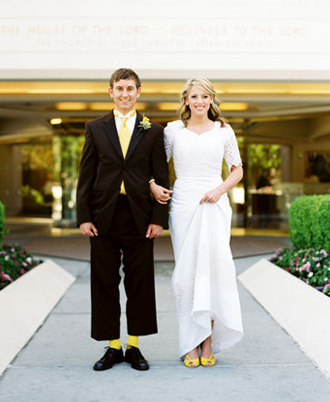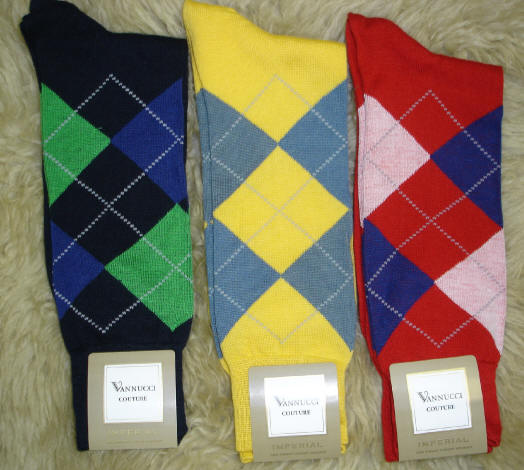 For a groom who is a police officer, pile a three-tier cake server with DOUGHNUTS and call it the "groom's cake" Arrive or depart from the reception in a police car. Have the children in the family all wear sheriff badges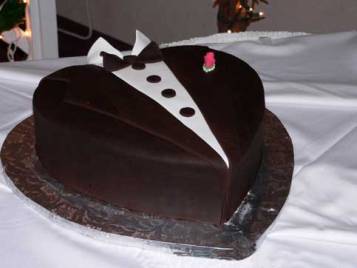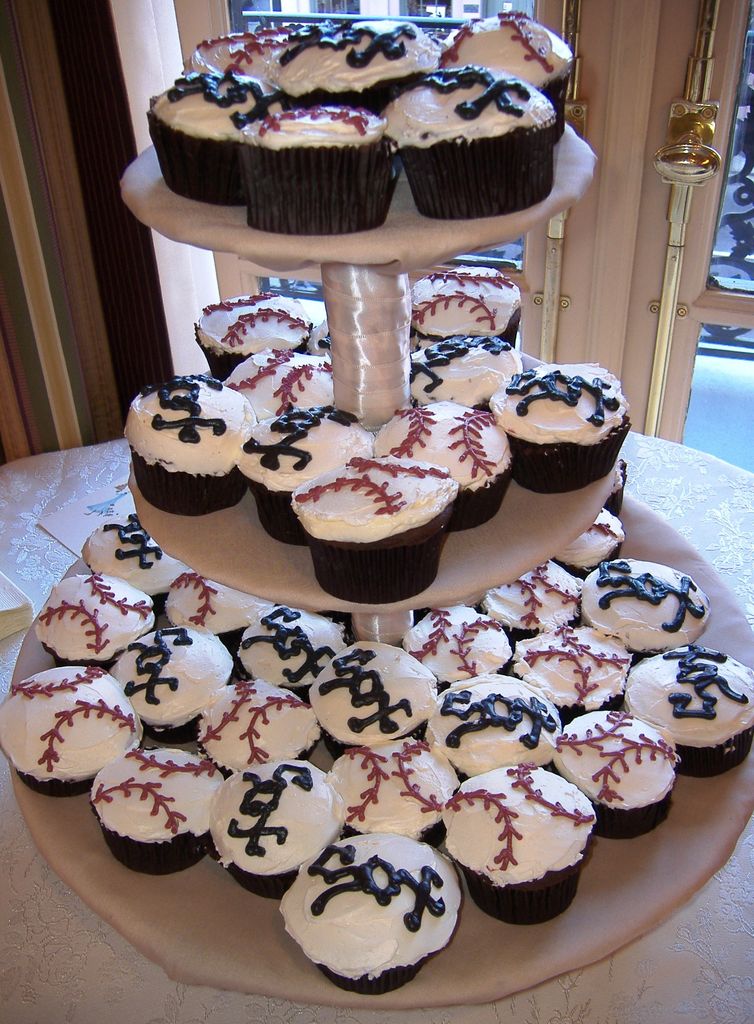 Groom's Cake (for police officer) Generic Groom's Cake for a baseball player

(Groom's cakes aren't used much anymore, but they are a great way to get more cake/dessert if you need it)
Ooooh - Ugly cake you say? It's NOT a cake...it's a PINATA!
They actually had a dessert table and displayed this cake separately.

Then hung it up and the Bride and Groom took turns bashing it open. What fun!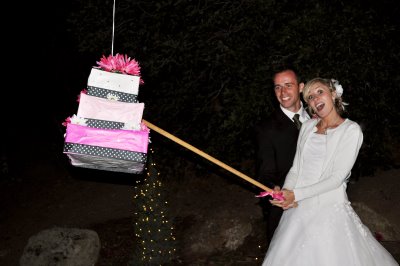 Who says the dresses and/or bouquets have to all be the same?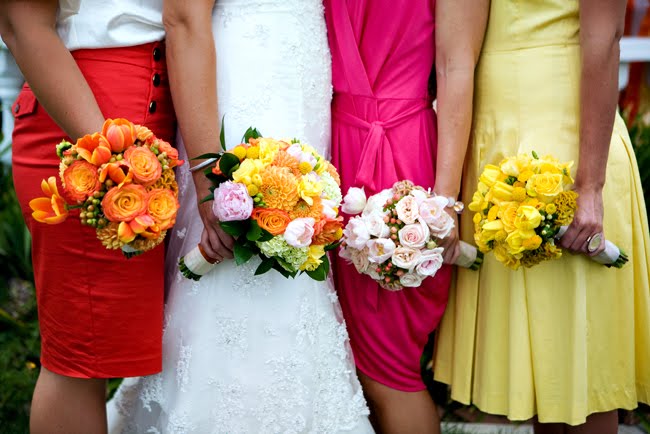 Photo by Rachel Thurston Photography

Who says the bouquets have to be flowers?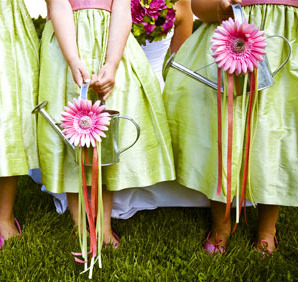 These tin watering cans make adorable "bouquets" and can be used as table centerpieces.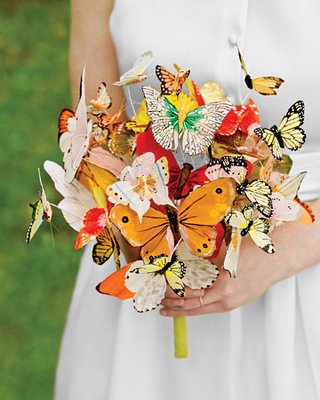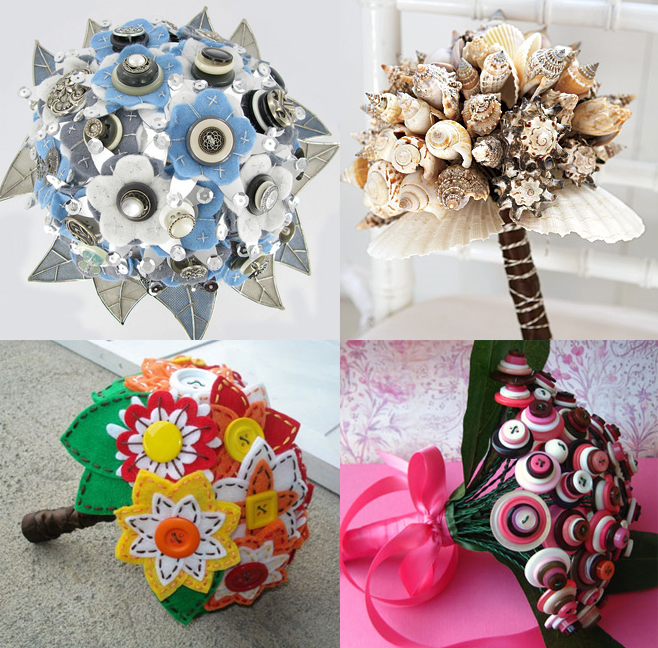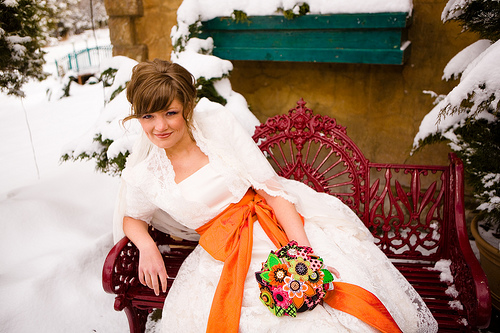 CAUTION: You are most likely NOT going to save money on these alternative options.! I'm showing you because they have been popping up by crafty brides who want to be "Unique" If you have a custom made felt and button bouquet made by
princesslasertron.com
, you're looking at around $400! (to make your own butterfly bouquet, go to our link in the side bar)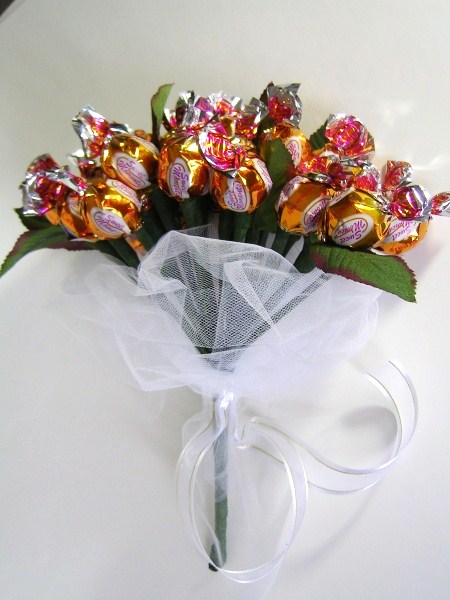 The "Yes I Do" chocolate bouquet can be ordered from
lifesweetmoments.com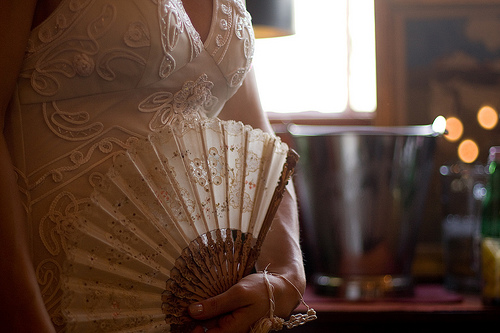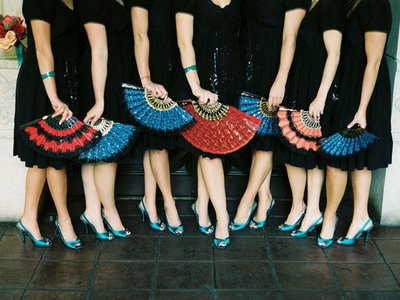 This was my friend Marilyn's daughter's wedding. Her Bridesmaids wore
BCBG
dresses, shoes by
Chinese Laundry
, and teal headbands and bracelets from
J.Crew
.(The bride spent a semester in Spain, thus, the Spanish theme). Photography by
Leo Patrone
Wedding coordinator: Heather Balliet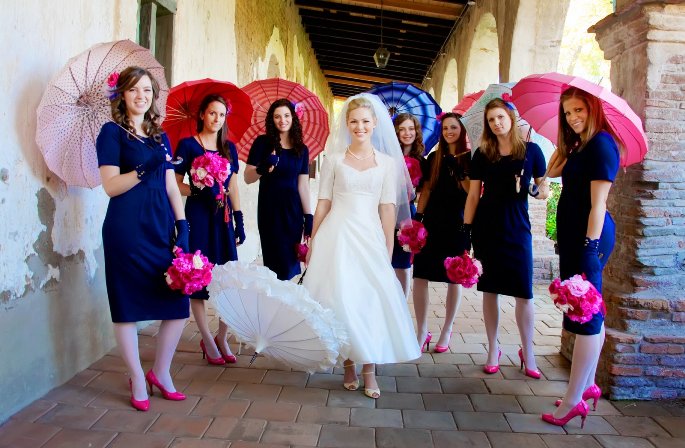 Kristin spent time in Paris and wanted a French theme. Her wedding coordinator, Heather Balliet, carried it off beautifully. (the buttoned gloves were the gifts from the bride to her bridesmaids). The whole look is just oh la la.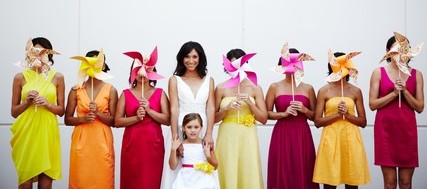 These giant pinwheels make a beautiful and unique alternative to traditional bridesmaid bouquets. You can get a set of 5 coordinating bridesmaid pinwheel bouquets in single or dual-tone from etsy.com You choose the color!

Choose solid, two-tone, or contact vendor for a custom listing with color coordinating prints and solids, as shown in these photos. Solid or dual colored are $10, patterned pinwheels are $15 each.
You or your bridesmaids could also carry lanterns (which would look pretty in photographs and then be hung to light the way to the reception)
There are also some cute ideas at jaimething.com (there are 5 pages of ideas- we love the hanging umbrellas)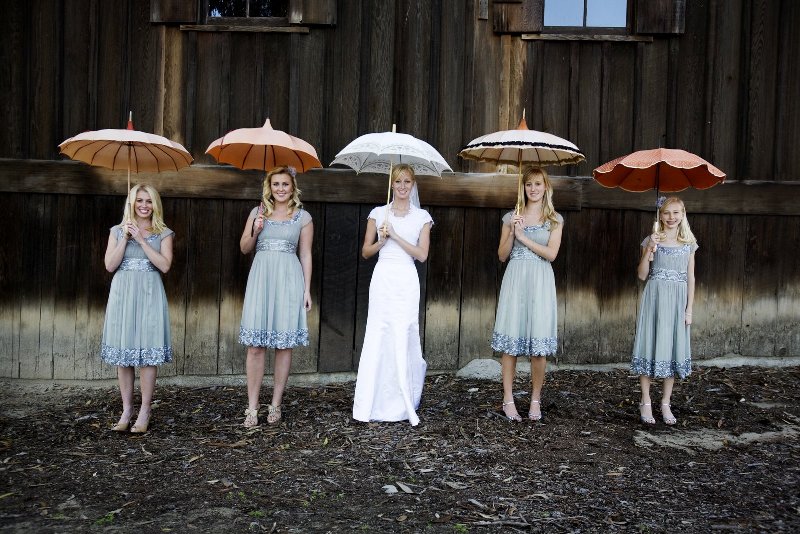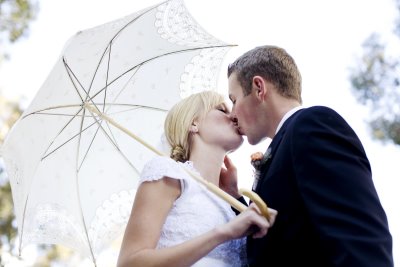 Umbrellas can add great romance to your wedding photos. Our favorite shots were from Jessica and Hunter's wedding, photographed by Natalie Norton Photography. You can find more great ideas from their wedding planner's website: amorologyweddings.blogspot.com. (see one of our umbrella sources in right margin)
See both Jessica, and Kristin's wedding photos at amorolgy weddings
Take some photos that show your personality: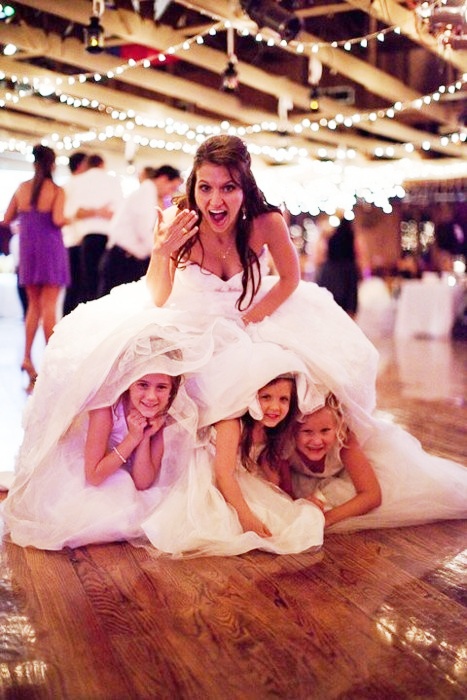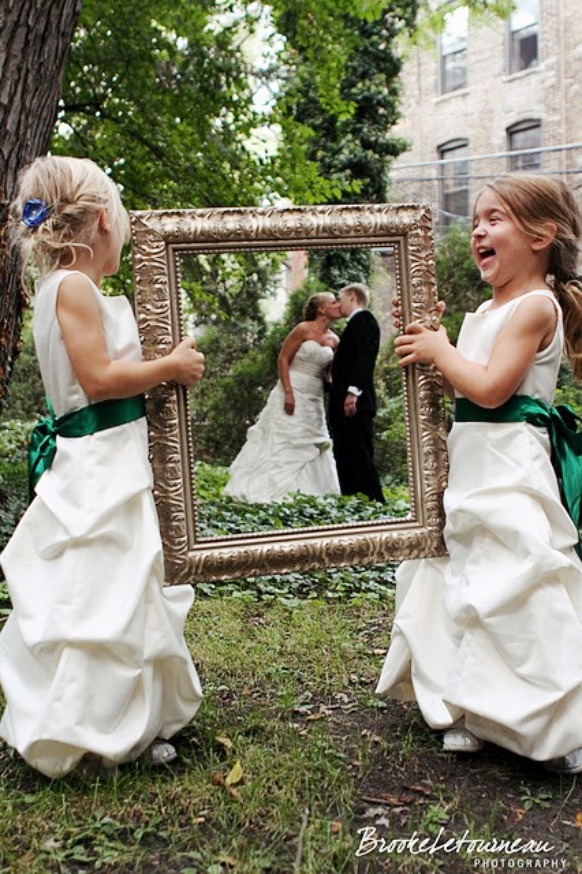 ---
PAPER LANTERNS
Paper lanterns are an affordable way to add a wow factor to your reception (and look great in photos) Go easy, or go over the top with special lighting.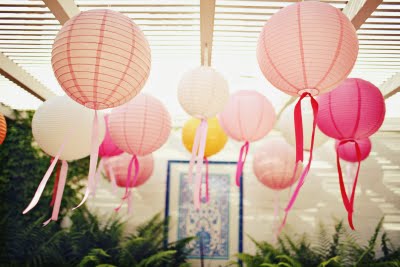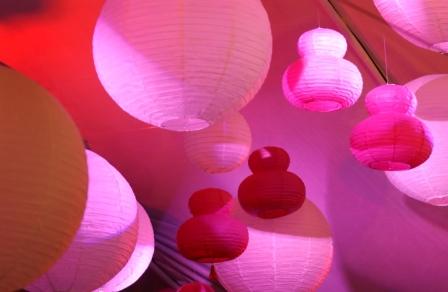 If you are lucky enough to live in a city with a "China Town," you may find beautifully decorated lanterns like these: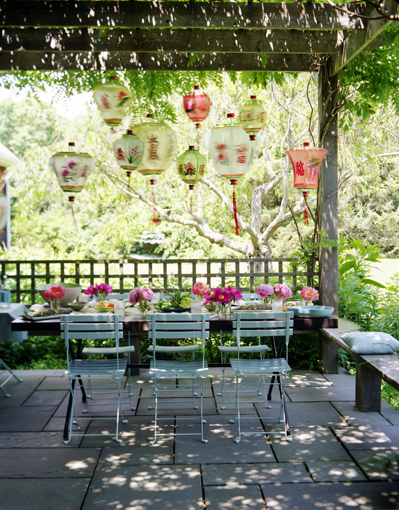 ---
GARAGE SALES:

Don't underestimate the possibilities of GARAGE SALES. Our friend bought this string of lights for $9 and 20 paper umbrellas for $10 (not each - 20 for $10!). Don't count on being that lucky - but you never know what you may find. Brides have lots of leftovers after weddings and garage sales are a good way to get rid it.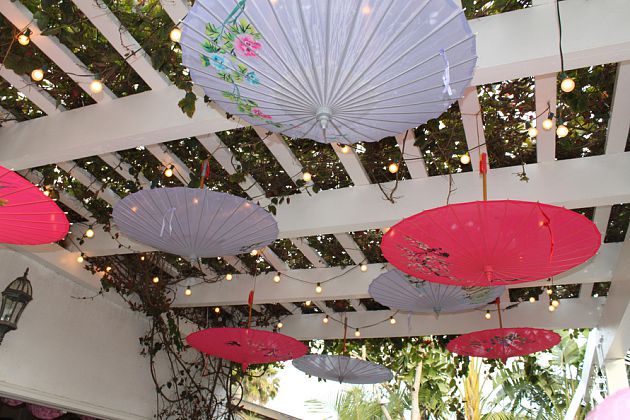 Be creative with your lighting. This bride used baby food jars - attached wire to the rims, put a little sand in the bottom to keep them from swinging around in the wind, put votives in them, tied them with ribbons in her colors, and hung them in the trees. We love it.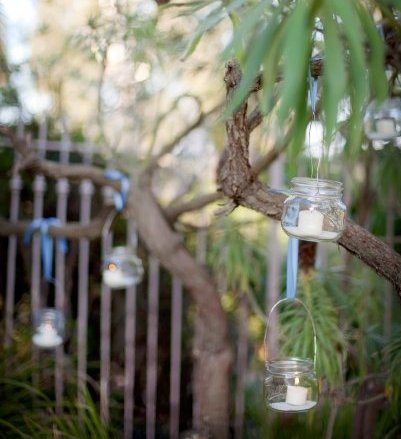 ---
   
The wedding party could pass out rice (or bird seed), rose petals, or bubble blowers, confetti, cans of silly string, or sparklers. 
These all look great in photos, but they have drawbacks:
               

Rice & bird seed play havoc for photos, especially videos because
               

        

the bride and groom have to shield their faces to keep the 
               

        

rice or seeds from getting in their eyes.
               

Rose petals can stain carpets - use silk rose petals instead
               

Bubbles can stain dresses
               

Confetti is hard to clean up
               

Sparklers can set things on fire (especially flammable fabrics like tuille 
               

       

and chiffon – you wouldn't want to leave your reception in flames!)

Did you happen to see Trista and Ryan's wedding on TV?  The guests held little sticks with
white fabric sashes at the tip and waved them as the couple left the alter.  You could do that
as you leave your reception.
For a really spectacular send off you could leave in a blaze of fireworks.Keep in mind, fireworks are not cheap and you will be required to 
have a fire marshall there all evening.is it really worth the cost when there's no one left to see you off?  Most guests leave early!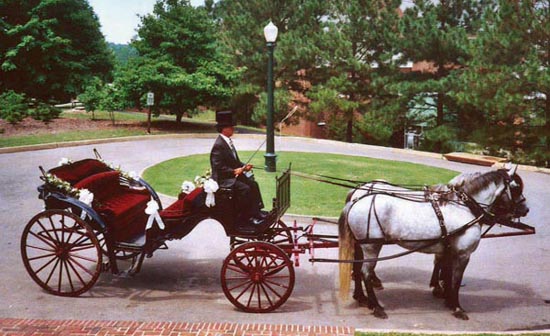 (The sparkler sendoff  is courtesy of Birdsong Photography and the Polka Dot Bride)

When you are considering ways to depart, think about the venue; if you are at a golf club, you could depart in a golf cart, 
if you are at the beach, or a lake, 

you could depart in a boat, or jet ski (assuming you change out of your wedding dress!) 
If you are at a mountain lodge in the winter, consider a sleigh, or just 

ski down the slope.  

Before you make plans for your 
big departure, check with your reception venue to see if they have any restrictions.

     
---
(The bride is hugging her husband, the man in the pink suit is her "Bridesman" or "Man of Honor)
Bridesman and/or Groomswoman?
It has recently become acceptable and even trendy to invite a guy friend (or brother) to be a "bridesman," "male of Honor," or "man of honor;" and/or a female friend (or sister) of the groom to be a "groomswoman," "groomslady," or "best lady." This is perfectly acceptable - as long as you don't have them cross dress! The bridesman could wear a shirt and tie that match the bridesmaids. He would line up for photos along side the bridesmaids. The groomswoman could wear the same boutonniere as the groomsmen and pin it to her dress in the same spot (no bouquet). She would line up for photos with the groomsmen. Why not?
Personally, if the guy really is your best friend or brother, I prefer referring to him as your "Man of Honor" - perhaps taking the place of a "Maid of Honor." It will save him from having to go around all night saying, "I'm not gay - not that there's anything wrong with that."
Other HOT Trends:
1. "GREEN" weddings - I'm not talking about green bridesmaids dresses. I'm talking about making your wedding reception environmentally friendly. Use recycled paper for your invitations and thank you notes. Have the reception in an eco-friendly environment (your backyard, the beach, a park, a lake, the mountains, a garden restaurant). Use an organic caterer that serves chemically free organic food (consider vegan/vegetarian). Select a vintage wedding gown. Offer sustanible favors. Include eco-friendly items on your gift registry (air purifiers, etc.). Choose an eco-friendly location for your honeymoon (see a list of approved U.S. hotels at: itsagreenworld.com ) See our section on GREEN Weddings. For more ideas on how to have a "Green" wedding, go to marthastewartweddings.com/eco-friendly
2. Create a "signature drink" for your guests. Experiment with various fruit combinations in your color scheme to come up with a delicious punch and float one of your wedding flowers in the punch bowl.
3. Cake toppers are back in. Use a vintage topper (your mom's or grandmother's) or use a jeweled monogram.
4. Create a wedding website (that's the perfect place to include your gift registry). Talk about how you met, how he proposed, plans for the upcoming wedding, etc. You can build one for free (our favorite is ewedding.com) or there are plenty to choose from who charge a nominal fee (our favorite is weddingwindow.com).

Caution - Just because something is a "Trend" doesn't necessarily mean that it is a smart thing to do. There are two big "Trends" now that don't make any sense - especially for LDS brides. One is having TWO bridal gowns; one for the ceremony and one for the reception. (Your wedding gown will most likely be the most expensive dress you'll ever buy - and you only wear it once. Why have TWO!?) The other is having a colored bridal gown (Red is the hot color now and it is showing up all over the globe). The LDS bride, who we assume is being married in the temple, will always be required to wear white - and we think that is the most appropriate and smartest choice for ALL brides in the long-term scheme of things.