Wedding Cakes & Desserts
"If you have columns on your cake - the 1980's called and they want their cake back."
Mary Alice
Ace of Cakes


Style of cakes change over the years, just like everything else. However, just because something is "out of style" doesn't mean you can't have it. If you've always dreamed of a pedestal wedding cake, by all means, have one. So open your mind and explore the possibilities.

Make your own wedding cake?
There are soooooooo many cakes to choose from and ALL price ranges. Many brides think about making their own. We say, "Why not?" The obvious reasons why NOT to make your own cakes are that you don't know for sure if it will turn out to meet your expectations and it takes TIME that you don't have. We have a solution for you. Make it SIMPLE and goof proof. The best way to do that is to purchase an 8", 12" and 16" cake from a local grocery store that makes wedding cakes and birthday cakes. Order them plain white (or chocolate). YOU assemble them and add flowers. DONE! (and waaay less than the typical wedding cake. Note: There is a reason bakeries put pedestals and supports between the cakes - it stabilizes the cake and prevents the weight of the upper cakes from crushing the bottom cake. If you are doing a three-tier cake, it would be wise to go to Michael's (craft store) and purchase something to stabilize your cake. If you have to transport the cake, think about assembling it there instead of trying to transport it.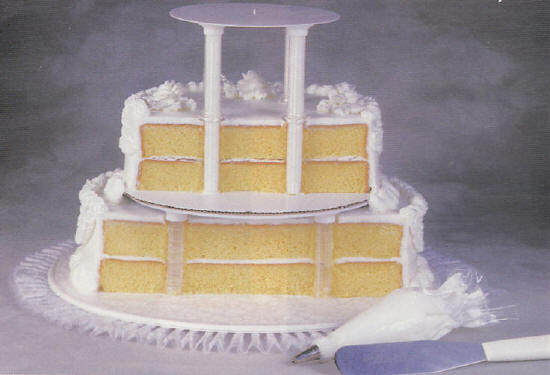 You can purchase cake supports at Michael's or online at:
http://www.bakingshop.com/weddingcakes/cakestand.htm
Oh, and brides, don't try and do this yourself. Trust me, you will be too stressed out. Even if I were the mother of the bride, I wouldn't want to tackle this last minute project. However, if you have an aunt or mom's best friend who is willing to take on the challenge, go for it.
Here are some sites to help you:
Wedding Cake Decorating – Do it Yourself:
http://ezinearticles.com/?Wedding-Cake-Decorating---Do-it-Yourself&id=3470575
Making and Decorating a Wedding Cake:
http://weddings.about.com/od/weddingcakesfoodmenus/a/weddingcakedeco.htm
How to smooth out the icing:
http://weddings.about.com/od/weddingcakesfoodmenus/ss/decoweddingcake_6.htm
If you'd like to make the first cake below (white chocolate lemon), go to epicurious.com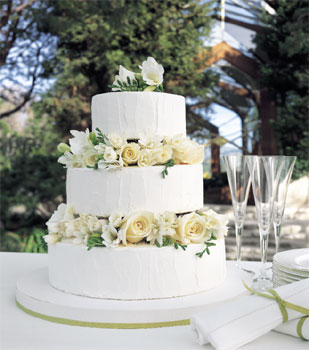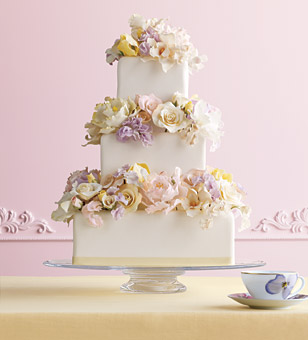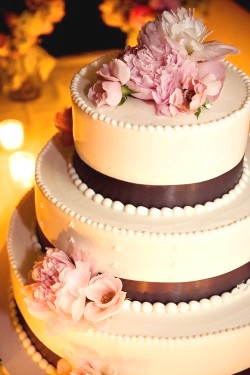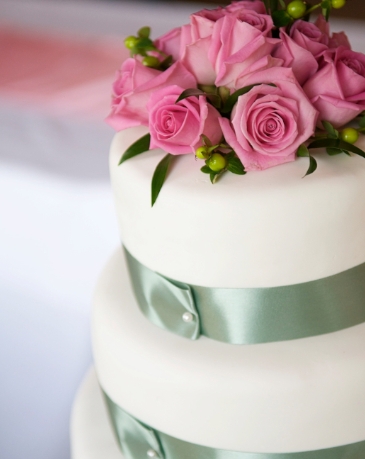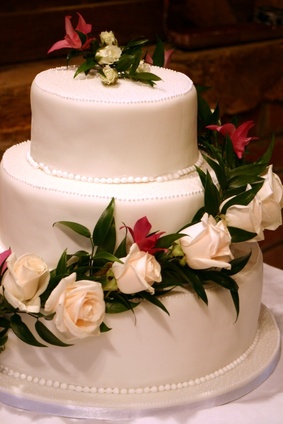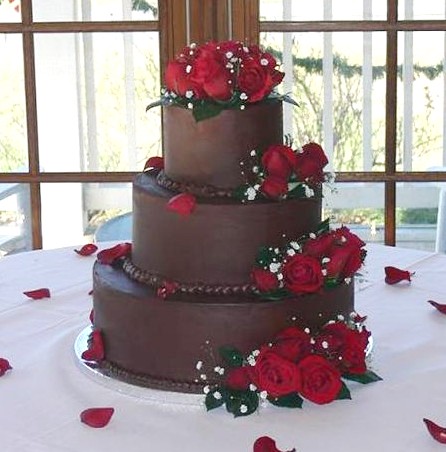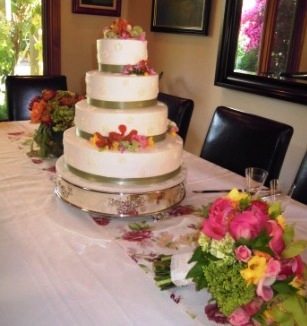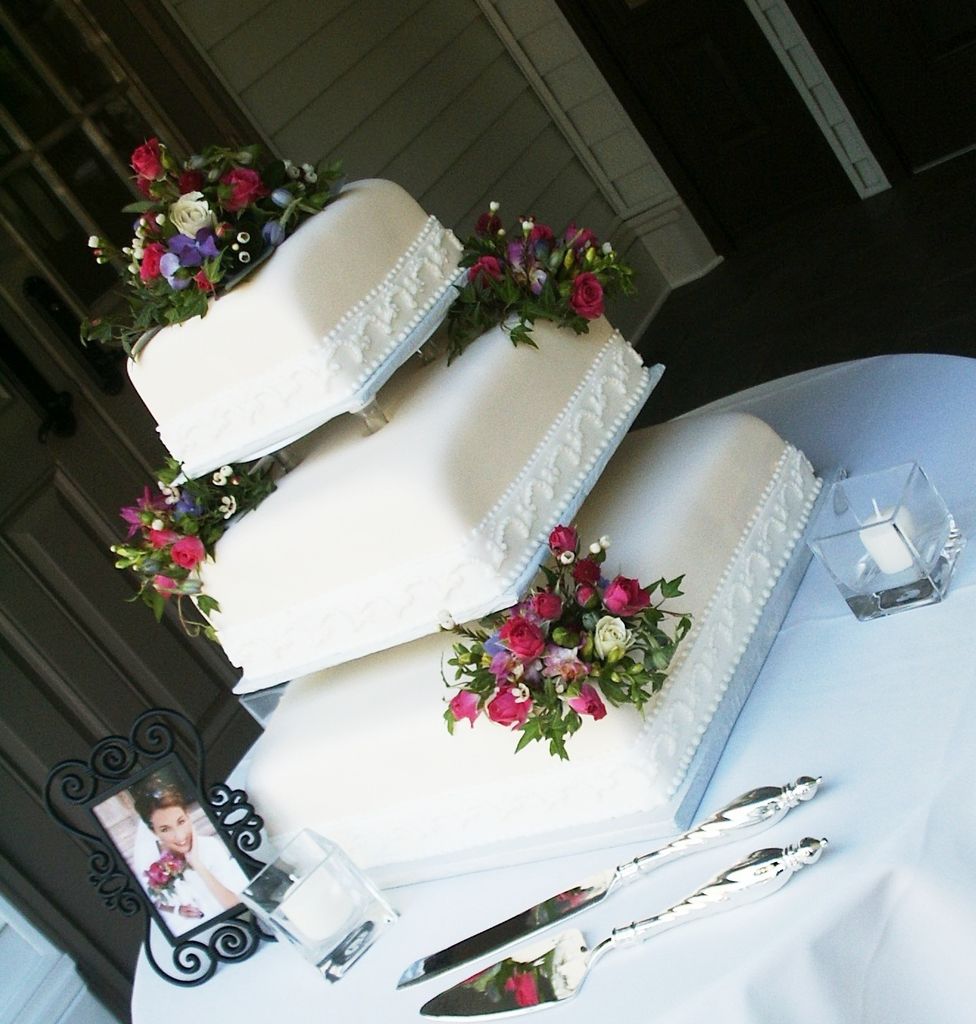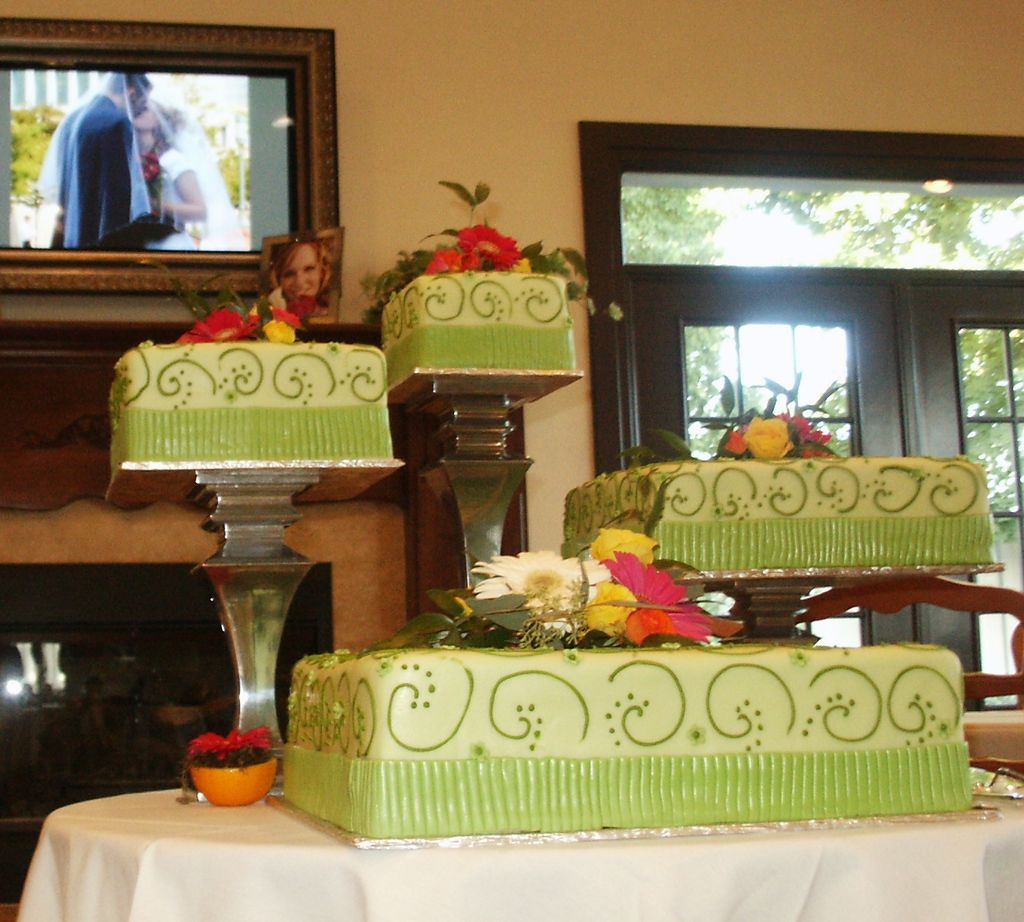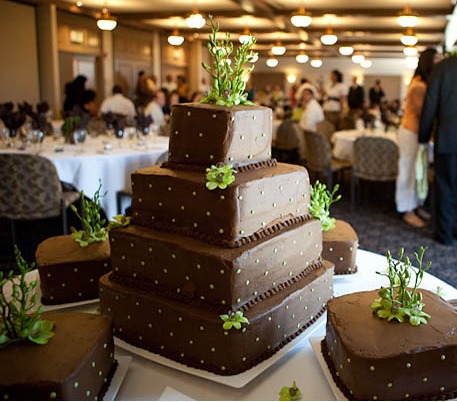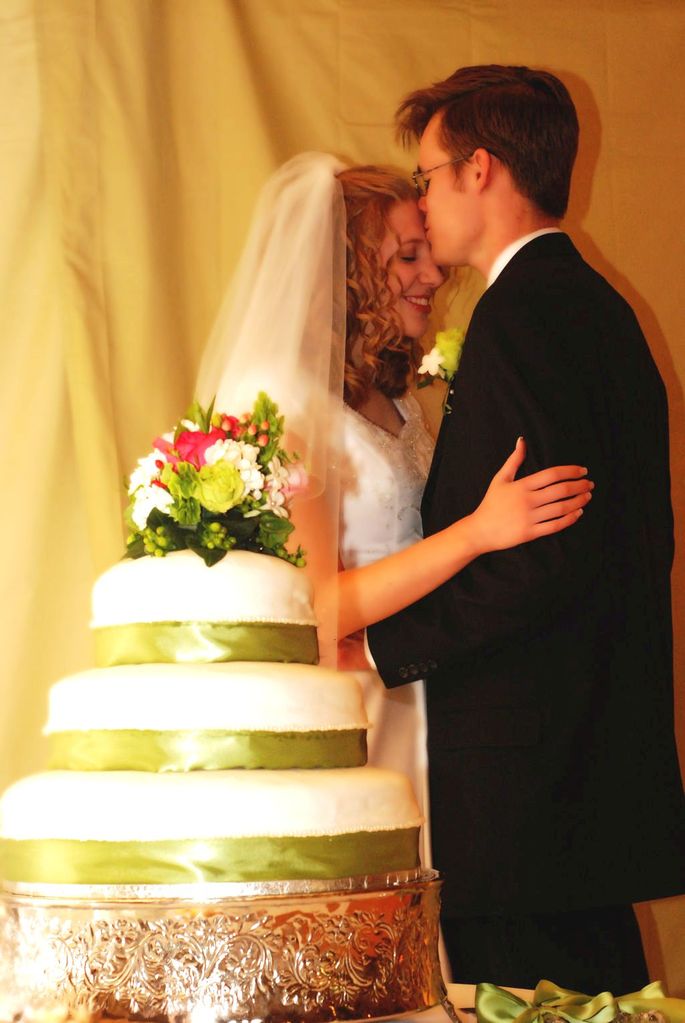 Felger/Wheeler wedding. The Bride's grandmother, Helen Evans, made this cake! (Photo by Liz Photos)

Okay, if you have a friend who is really itching to show off her culinary skills and begs to make your cake, give her this recipe from Epicurious : (if she pulls it off, she'll be making all future cakes, trust me.) Here's what it looks like: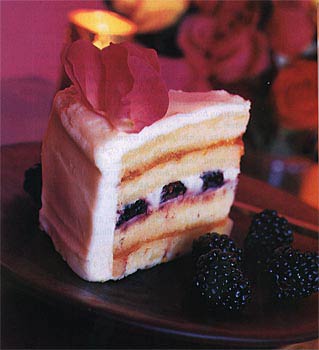 See our PHOTO gallery of Cakes
Cutting the Cake: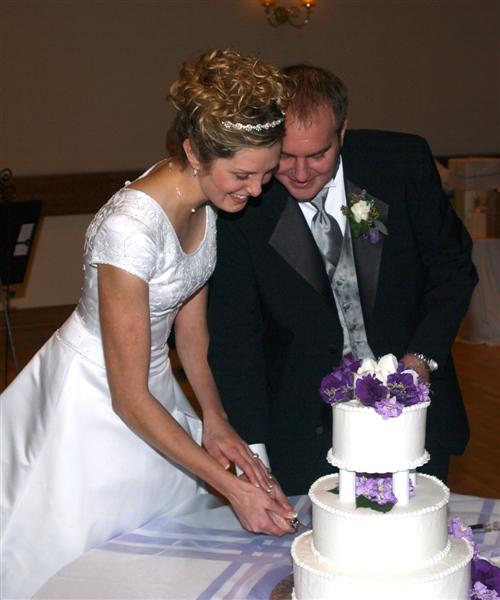 There is some etiquette involved. Go to: etiquettehell.com

I always wondered how they got so many servings out of a 10" round. Here is a guide provided by a bakery:




To cut round tiers, move in two inches from the tier's outer edge; cut a circle and then slice 1-in. pieces within the circle. Now move in another 2-in., cut another circle, slice 1-in. pieces and so on until the tier is completely cut. The center core of each tier and the smaller top tier can be cut into halves, 4ths, 6ths and 8ths depending on size




Or, Here's another way to cut: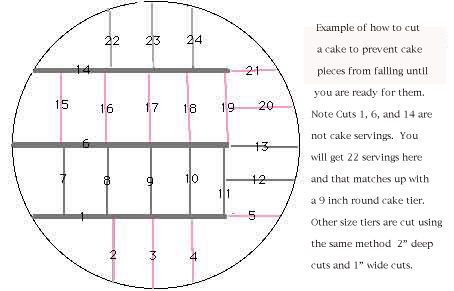 Note: When cutting the cake, cut the lower tiers first. If you end up not having to cut the top tier, freeze it and let the bride and groom enjoy it on their first wedding anniversary.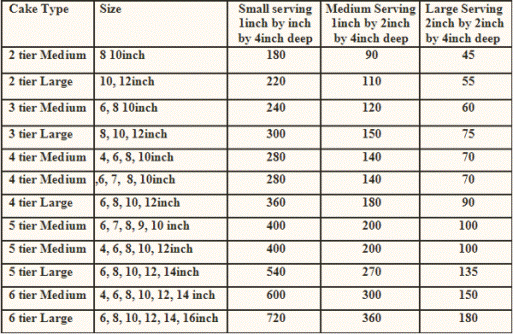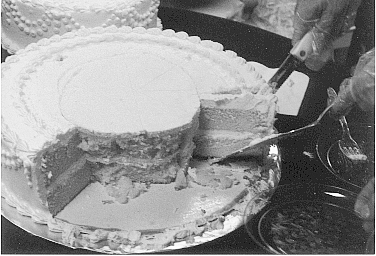 If you think you may need more cake, consider adding a "Groom's Cake" (see ideas at: Uniquely YOU )

How about CUP CAKES?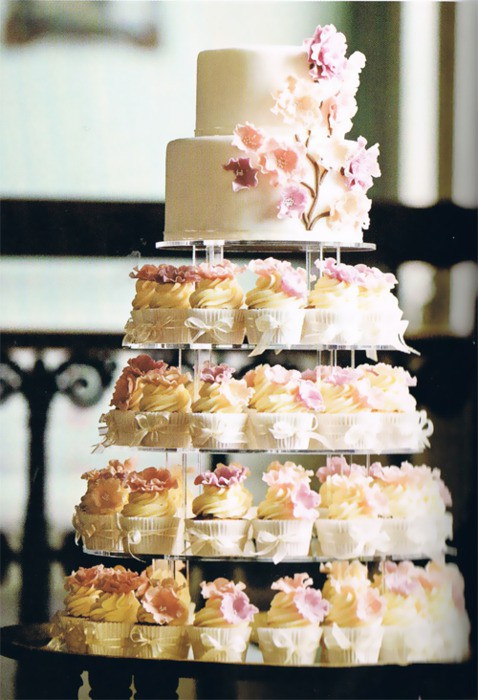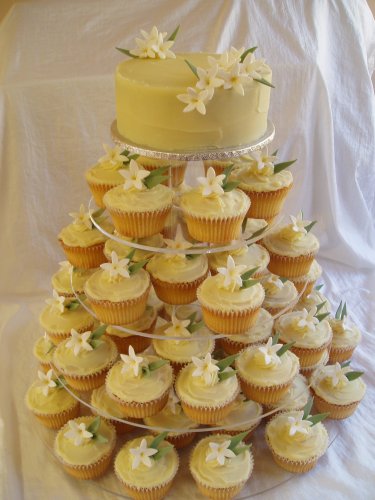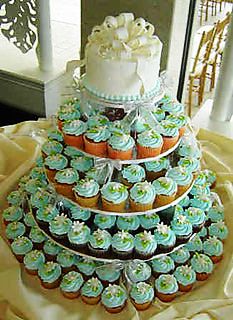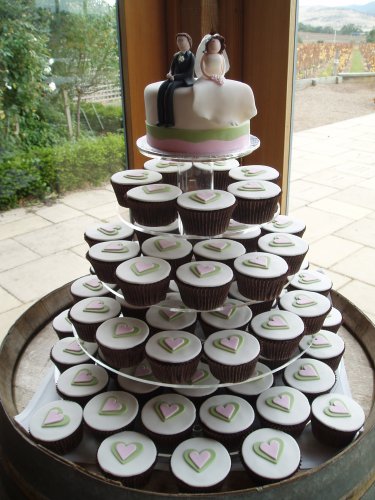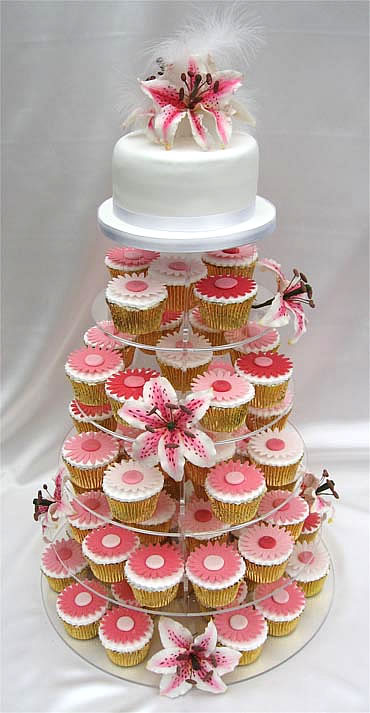 We like the idea of having a small cake at the top for the bride and groom to "cut"
We also prefer having a smaller display and having the rest of the cupcakes in the kitchen ready to be brought out on trays at serving time. Otherwise, your display can get away from you. The next two photos show about as much as you can display without getting "messy":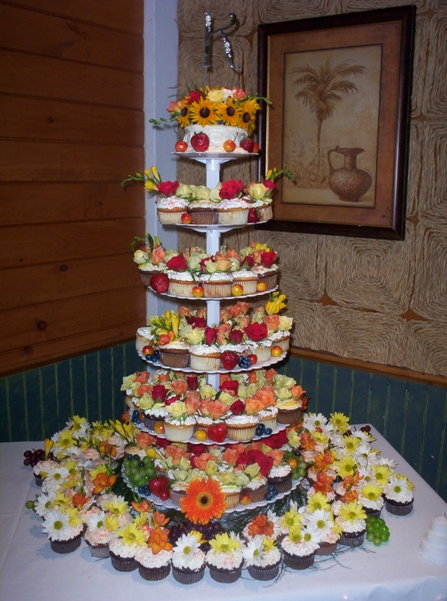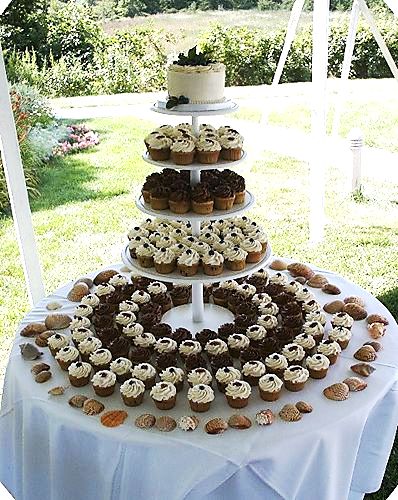 If you are serving more, serve from the kitchen or consider going "all out" and create a real Wow tower like this: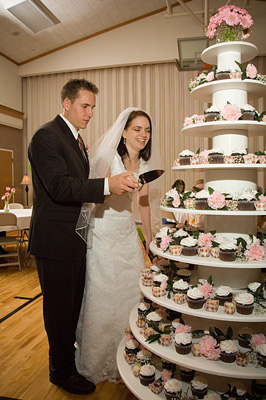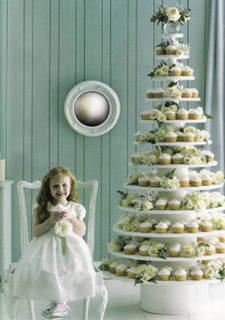 If you're a creative, do-it-yourself bride, you might want to forget the cupcake stand and place hundreds of cupcakes on a large cupcake tree instead! Not only is it a beautiful way to present all those wedding cupcakes; it also makes a fabulous centerpiece. The wedding cupcake tree pictured above is about six feet tall, 40 inches in diameter. Each layer is made out of half-inch, medium density fiberboard with rounded edges painted white. The whole structure rests on a Christmas tree stand and is held up by a curtain rod through holes made in the center of each layer.
As you can see, ANYTHING GOES! You are only limited by your imagination.

Or, have a DESSERT BAR: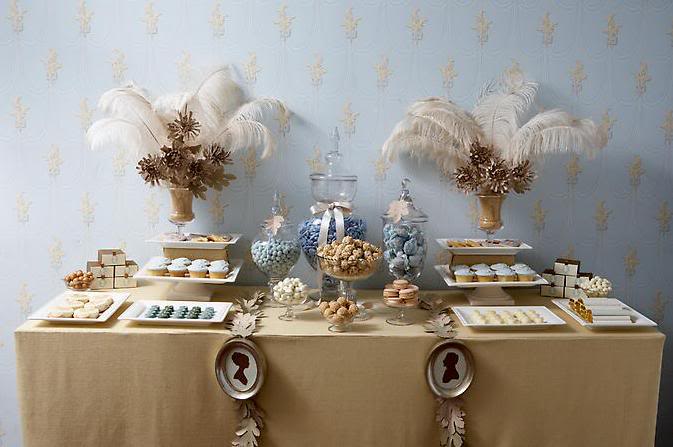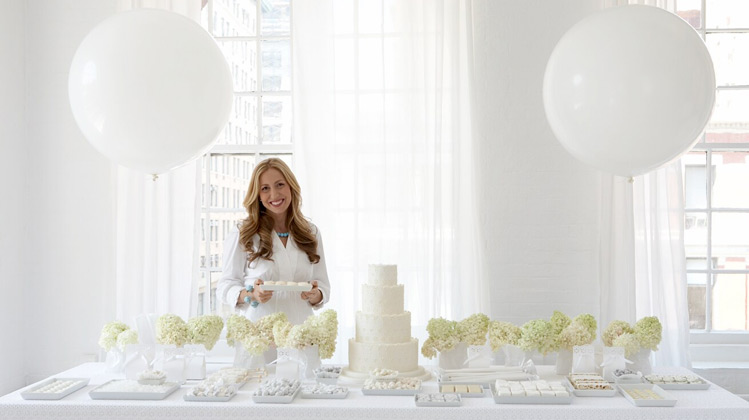 (We purchased all of the items for this next display at the grocery store !!!

):